Recent Immigrant Solidarity Network Events/Actions
Translation to Arabic | Translation to most European Languages
See our Flyers Page to download flyers
2/4: Thank You! The Los Angeles Petitions to Oppose Anti-Immigrant Bill was a success!

We had successfully collected hundreds of signatures within 10 days for a petition addressed to the Los Angeles City Council requesting they adopt a resolution in favor of the immigrant community. The petition will be hand delivered to City Council on February 2nd. Our voices need to be heard and we need to defeat H.R. 4437 the moment it reaches the Senate. Currently, folks in D.C. are speculating that the issue of immigration will be taken up in mid February. If City Council approves the resolution it will be an issue the lobbying committee of the city takes on in D.C. as a priority.
Our Petition to the Los Angeles City Council
---
2/3 LA City Council to Minutemen: Go Home!
LOS ANGELES, February [LA IMC] The Los Angeles City Council this morning issued an official and harsh rebuke to inland and border anti-migrant vigilantes. The Council moved Item No. 7 to second position on the agenda, effectively declaring it a consent item. The Council resolved to "include in the City's 2005-06 State and Federal Legislative Program, SUPPORT of State or Federal Legislation denouncing and prohibiting the vigilante actions of individuals against immigrants along the border and within urban communities and enact immigration reform leading towards a path of permanent status for immigrants here now and wider legal channels for those coming in the future.
From the Newswire: LA City Council to Minutemen: Go Home! by Leslie Radford
---
2005
10/7 Borders, Vigilantes, Deaths: Audio and Other Updates

San Diego Inymedia Center has a compilation of some recent postings to the newswire concerning some of our three favorite topics here in San Diego: Borders, Vigilantes, and Death.
Audio: Llorona Post 9-11 || Minutejerks go North || The Minute KKKlan || Jen Discusses Resistance to Border Vigilantes
Stories: Record number of border deaths || Hundreds charge Spanish Border || Why We Oppose Borders || English

Read more >>
---
Nov 28: Bad Border Bill sailing through Congress
Although Congress was out of session for the Thanksgiving holiday, they have vowed to have a full vote on the Border Security and Terrorism Prevention Act the week of December 12. It is very important to express opposition to this bill - right now, and this bill may get even worse before it gets better. And U.S. Rep. John Culberson, a Texas Republican, is pushing legislation to create a citizen border patrol whose members would be deputized to make arrests and authorized to carry guns.
President Bush, on the other hand, once again along with the Congress, spinning his rhetoric from the failure war in Iraq, to blaming the immigrants for all the World's problems.
It's Clear that after the massy military problems in Iraq, the Bush admistration is once again spinning our focus from Iraq to immigrant issues, at his recent trip to Arizona, he highlight his latest rhetoric:
11/29: Bush Says Secure border, no amnesty
11/28: Bush Seeks 'New' Immigration Strategy

For much of the past five years, President Bush has sought to smooth the edges of the national immigration debate with the sentimental observation that "family values don't stop at the Rio Grande River." He has lamented the suffering inflicted by illegal border crossings and celebrated the migrants' contributions to the U.S. economy. But during his visit to the border this week, the president tucked away his compassionate conservatism and strutted his stuff as a tough-talking lawman determined to bring order to the 1,950-mile U.S.-Mexico border.
He showed far more willingness to crack down at the country's edge, however, than to demand that employers, whose jobs draw migrants northward, comply with the law - which many believe is essential for successful immigration reform. Here are some of the provisions of the bill draft by the Congress:

* The Department of Homeland Security must develop a comprehensive border security plan in the next six months that will increase the use of technology, infrastructure, and manpower at the border.
* The bill puts terrorists and undocumented migrants in the same category, saying that this new plan must respond to both threats equally.
* Put 8,000 new Border Patrol Agents on our borders
* The Department of Defense must develop a plan to allow the Border Patrol to more fully take advantage of its resources. It includes unmanned aerial vehicles, radars, surveillance equipment and "assistance" in conducting surveillance activities.
* Requires Homeland Security to develop a plan for securing national parks, forests, and other recreational areas along the border. This would give them increased authority on environmentally sensitive lands.
* Mandates the detention and deportation of all undocumented migrants. If they are released pending a court date, they must take out a minimum bond of $5,000. This will basically increase the jailing of migrants.
* Transfer the authority of the Tohono O'odham Shadow Wolves (the reservation's police force that addresses migration issues) to the Bureau of Immigration and Customs Enforcement.
Here's What You Can do >> Read More
Take Actions! Contact President Bush and your congressional representatives today!
http://www.unionvoice.org/campaign/bushimmigration http://www.lawg.org/countries/mexico/takeACTION.htm
---
9/18 San Diego, CA: Deporten a La Migra Marches on Sacramento; Minuteman Training Disrupted in San Diego
A weekend of No Border actions in San Diego confronted the racist groups attempting to mount vigilante border patrols in California. On 9/17, a group of around 50 demonstrators interrupted a "Friends of the Border Patrol" training session, tore down the registration table and flag and entered the hall chanting "No Borders, No Racists, No Borders, No Nations" and "We didn't cross the border, the border crossed us." On 9/18, a No Border March converged on the border from both north and south at Calexico, about two hours east of San Diego.
Meanwhile, on 9/16, a bay area coalition called "Deporten a La Migra" headed to Sacramento to march on the State Capitol and Attorney General's office, condemning the racist vigilantes terrorizing the border. St. Peters' Housing Committee, SF Day Labor Program, Mujeres Unidas y Activas, CARECEN, Heads Up Collective, CISPES, and Just Cause Oakland all sent delegations to present their demands to Schwarzenegger and Lockyer.
Report and Photos from Bay Area Coalition to Fight the Minutemen | Reflections by a bay area no-borders activist | Report from Deporten a La Migra | Coverage at San Diego Indymedia
More Recent News on the Minutemen, Please Visit our Minutemen Watch
---
9/5: Hurricane Katrina Alert!
Calls For Progressive Emergency Supports to the Victims!
For More Information please visit our Hurricane Katrina Alert Webpage:
http://www.actionla.org/features/index.php?TypeId=59
---
6/3: Latest REAL ID, CLEAR Act and Other Due Process Issues
6/9: Update On The 'Gang' Bill
On May 11, the House passed a bill with troubling immigration related provisions known as the Gang Deterrence and Community Protection Act of 2005 (H.R. 1279). Among other things, the bill would expand the definition of 'crime of violence' and as a result, the definition of an "aggravated felony" in the immigration code. Read More..
5/19 Latest CLEAR Act amendments by: National Immigration Forum
5/18: EXCERPT FROM HOUSE FLOOR REAL ID DEBATE
Background Information REAL ID Act
How 'Real ID' Will Affect You?
5/7: REAL ID outcome By Sean Mariano Garcia - Latin America Working Group
May 5: "Real ID" Passed
On May 5, the House of Representatives voted 368-58 to approve the final version of an emergency supplemental appropriations bill, which includes a series of anti-immigrant measures originally introduced as the REAL ID Act.
Read More...
Recent Government Campaigns Against Immigrants
6/11: Terrorism case in Lodi, California begins to unravel
Within days of the June 5 arrest of two Lodi, California men supposedly linked to Islamic fundamentalist terrorism, the case has begun to come apart at the seams. Attorneys for the two men, a Pakistani immigrant and his US-born son, announced Thursday that there were significant discrepancies in the affidavits used by the federal Department of Justice to charge their clients. Read More..
6/10: First Group of Deported Migrants Flown to Mexico
Ninety-four deported migrants arrived in Mexico's capital Friday on the first flight of a renewed U.S. repatriation program aimed at discouraging repeated border-crossers in desert areas during the hot summer months. Read More..
6/9: 17 Chinese Restaurants Raided in Mich.
Authorities raided 17 Chinese restaurants around Michigan that they suspect of ducking millions of dollars in taxes and importing undocumented workers as a ``modern version of indentured servants.'' Read More..
---
The Surge of Anti-Immigrant Incidents Across the Country
There's been surge of anti-immigrant campaigns organized by our government and the general public, from California to US-Mexico border.
Furthermore, The recently passed Intelligence Reform and Terrorism Prevention Act (IRTPA) will intensify a crisis in immigrant communities while benefiting a burgeoning immigrant incarceration industry.
National Immigrant Solidarity Network and different peace and justice organizations will announce soon several campaigns to counter the anti-immigrant hysteria across the country in 2005, please support our upcoming campaigns to against the racist anti-immigrant movements.
3/25: ACTION ALERT REMINDER: Contact Your Senators About REAL ID
U.S. Undocumented Immigrant Numbers Surge
3/20: TIMCO labor contractor charged with providing false documents
3/14: 103 Alleged Honduran Gang Members Arrested

---
5/3: Alabama Anti-Immigrant "Taxpayer and Citizen Protection Act" introduced
Continuing on the heels of the success of Arizona's Proposition 200 (officially known as the Arizona "Taxpayer and Citizen Protection Act"), Alabama becomes the latest in a growing list of states facing this form of anti-immigrant legislation.
Read More...
---
4/27: The Radio Host "Jersey Guys" (NJ 101.5) Makes Anti-Asian Racist Remarks
Earlier last week, "The Jersey Guys" on NJ 101.5 made disturbing, inflammatory racial remarks regarding Jun Choi, a Korean American running for Edison (NJ) Mayor. We encourage you to take action and make your voice heard that Asian Americans are part of our country's democratic process and that such insensitive remarks will not be tolerated! Read More...
Recent Incidents: Protest HOT 97! Racist "Tsunami Song"!
---
4/18 AZ: Threat of National and International Boycott of Arizona Looms as 20 Anti-Immigrant Bills Move through Arizona Legislature
Tucson -Arizona legislators backing the Minutemen Vigilante Project on the Arizona-Mexico Border are also pushing an unprecedented slew of anti-immigrant bills. In response, a growing number of groups throughout Arizona, California and Mexico are threatening a boycott of Arizona goods and services should any of these discriminatory bills become law. Read More..
---
4/17 AZ: Act NOW to stop legislation targeting immigrant workers & families in Arizona !
Many of the bills below are being decided this coming week in the AZ Legislature. Your emails and phone calls are needed NOW to persuade Senators and Representatives to vote NO on all of these, especially the first 8 listed! Read More..
Call your AZ Senator TODAY! 1-800-352-8404
---
DREAM Act 2005: More Endorsements Urgently Needed!
April 6: Senator Hatch and Senator Durbin are poised to re-introduce the DREAM Act very soon, hopefully within a week or so. Our expectation is that this year's bill will likely be substantially identical to the one that emerged from the Judiciary Committee last session by a 16-3 vote. Advocates are working hard to gather as many organizational endorsements as possible before the bill is reintroduced. More information on how you can help
---
April 8-14, 2005: Tell Senate: Reject Anti-Immigrant, Pro-War Legislation!
Call Your Senators And Support The Community Actions!
It's bad enough that our tax dollars would again be used for the war. But if the Senate agrees to the House version of the military appropriations bill -- pegged as an emergency wartime effort to support U.S. troops – it would also mount an all-out assault on immigrants at home. We urge you to support the following campaigns to suprt teh immigrant rights and bring the troops back home!

Tell Senate: Reject Anti-Immigrant, Pro-War Legislation (UFPJ)
AgJOBS Sign on Letter Big Success! More to do (Farmworker Justice Fund)
4/15 New York City: IMPORTANT Immigrant Voting Rights Rally (NICE)
2/3 Alert! ANTI-IMMIGRANT LEGISLATION TO BE VOTED ON NEXT WEEK! CONTACT YOUR CONGRESSIONAL REPRESENTATIVES!
By National Immigration Forum
A vote on anti-immigrant legislation, introduced by House Judiciary Chairman James Sensenbrenner (R-WI), is expected in the U.S. House of Representatives early next week, your actions is needed!
Protest HOT 97! Racist "Tsunami Song"!
National Immigrant Solidarity Network had been deeply outraged by a recent radio broad cast by New York City HOT 97's "Miss Jones in the Morning Show" ran a racist song call Tsunami Song that ridicules the victims of the Tsunami as "ch*nks" whose children will now be sold into child slavery. More Information
2/19 New Brunswick, NJ: New Jersey Immigrant/Human Rights Conference
Saturday, February 19, 2005
Rutgers University Labor Education Center
50 Labor Center Way, New Brunswick, NJ 08901
New Jersey Immigration Policy Network, American Friends Service Committee, the American Civil Liberties Union of New Jersey and the International Institute of New Jersey take the initiative to hold an all-day conference on Human Rights for Immigrants. read more...
ALERT: HR 10 / 9-11 COMMISSION LEGISLATION
Take Action Now.
(Sad News) Prop. 200 win inspires other groups across U.S.
Arizona's decisive passage of Proposition 200 is inspiring similar anti-illegal immigration efforts across the United States, sweeping east from California to Georgia. read more...
12/9 Washington DC: National Immigration Forum's Strategy Meeting
Election Outcomes: What happened and why?
Reflections on 2004: What did we do and how did we do it? How can we learn from it?
Political Dynamics and Policy Directions for 2005
read more...
---
Saturday, October 16, 2004
Two Marches For Immigrant Rights
in Los Angeles CA
Equal Rights for Immigrants
Stop the Raids on Immigrants and
Mexican/Latino Communities
Legalization – Stop The Raids
Assemble at 9:00 am
at 5 points in Boyle Heights, Los Angeles CA
(corner of Chavez and Lorena)
March to 1st & Spring, City Hall for Rally
and another March the same day in LA...
March & Rally For Immigrants Rights
Assemble at 12:00 noon
at corner of Olympic & Broadway, Los Angeles
March to 1st & Spring, City Hall for Rally
read more...
---

---
September 20-25, 2004

National Week of Action

read about the Nationwide September Week of Action
read more...
read the DREAM Team Fast DAILY JOURNAL
read more...
Immigrant Solidarity Network member Terry Burke's
"Why Do I Fast" and DAILY JOURNAL
read more...
---
Friday August 27, 2004

Immigrant-Worker Solidarity Day Of Action
SpeakOut! in New York City
A day of immigrant workers and community activists gathering to speak out on the Issues
Read about the event
Report from the August 30 PPEHRC March in NYC


---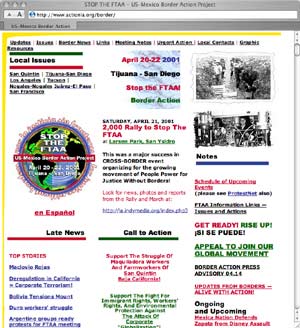 ActionLA Organized Border Action to Stop the FTAA
April 20-21, 2001
Immigrant Solidarity Network has grown out of the work of ActionLA affinity group. In Spring 2001, in coalition with groups from across the West, ActionLA organized a groundbreaking bi-national protest on both sides of the Mexican-US border.
---
| STOP THE DEPORTATIONS: Call John Ashcroft | OPPOSE THE CLEAR ACT: Write to Congress | SUPPORT THE AG-JOBS ACT: Write to Congress | OPPOSE SEVIS Stop the Surveillance of Innocent Students | SUPPORT THE DREAM Act Education for All Students | SUPPORT THE CIVIL LIBERTIES RESTORATION Act Constitutional Rights for All | SUPPORT THE SOLVE Act Just Immigration Reform |
---
from: ADC, National Immigration Forum
STOP THE DEPORTATIONS
Department of Homeland Security Announces Termination of 30 Day and Annual Re-registration Requirements Affecting Some 83,000 Individuals
Threat of Deportations Still Hangs Over Those Already Affected by the Flawed Policy
"...the elimination of the call-in requirements is a positive step, and helps move us away from a system which discriminates against individuals based solely on their national origin. However, we are still very concerned about the thousands of people who unreasonably face possible deportation as a result of a policy that is increasingly recognized as having been ill-conceived."
"...deporting thousands of individuals for trivial reasons resulting from the poor implementation of a flawed policy will not make our country any safer. We urge the government to continue to correct problems associated with Special Registration and to drop plans to pursue deporting thousands of individuals who came forward to voluntarily comply with the registration program
Former Congresswoman and American-Arab Anti-Discrimination Committee (ADC) President Mary Rose Oakar
Take Action:
Mass deportations and discriminatory treatment based soley on national origin do not serve to increse the security of the United States. Please let Attorney General John Ashcroft know that you oppose further deportation proceedings against those unjustly caught in the ill-concieved Special Registration Program dragnet.
phone 202-353-1555
fax 202-307-2825
Read more...
Dec. 1: American-Arab Anti-Discrimination Committee (ADC) Statement
Dec. 2: National Immigration Forum Press Release
---
from: Friends Committee on National Legislation, National Immigration Forum, ACLU
OPPOSE THE CLEAR ACT - H.R. 2671
This bill requires state and local police to enforce federal, civil immigration laws. Using local police to enforce federal immigration laws conflicts with their primary mission of fighting crime in our communities. Under CLEAR, Domestic violence, gang intimidation and drug activity will likely all increase because when immigrants begin to see local police as agents of the federal government, with the power to deport them or their family members, they are less likely to approach local law enforcement with tips on crimes or suspicious activity.
Take Action...
Write to Congress
Friends Committee on National Legislation
Take Action...
Write to Congress
ACLU
Read more...
The National Immigration Forum
---
from: National Immigration Forum, United Farm Workers
SUPPORT THE AGJOBS BILLS: S.1645 & H.R. 3142
In this session of Congress, a remarkable deal between farmworker advocates and agricultural employers has been packaged into legislation. Addressing undocumented immigration in the agricultural sector is critical, as this is an industry largely serviced by undocumented workers (from 50 to 75% of the workforce is undocumented) who have been historically and systematically vulnerable to exploitation by their employers. The problem in our larger economy between a deficiency in the domestic labor supply and increasing demand for foreign labor is particularly acute in the agricultural sector.
The Legislation
Agricultural Job Opportunity, Benefits, and Security Act (AgJOBS)
S. 1645 (PDF), introduced by Senators Larry Craig (R-ID) and Edward Kennedy (D-MA).
H.R. 3142 (PDF), introduced by Representatives Chris Cannon (R-UT) and Howard Berman (D-CA).
The bill would put undocumented immigrant farmworkers on a path to permanent legal status, and streamline aspects of the current H-2A agriculture guestworker program. It is supported by major agricultural employers as well as farmworker advocates.
Take Action...
Write to Congress
United Farm Workers
Read more...
The National Immigration Forum
---
from: Refuse and Resist, Hawai'i
The Campaign Against SEVIS
Student Exchange Visitor Information System (SEVIS) is a computer system for racial profiling that singles out and criminalizes international students in the U.S.
The USA PATRIOT Act and the Border Securities Act make it mandatory for universities to provide information on international students directly to the INS, the State Dept, the FBI, and other government agencies. Under the law, universities must enter confidential student information into the SEVIS (Student Exchange Visitor Information System) computer system.
Take Action...
Write letters to the editors. Educate yourself and others about SEVIS.
The StopSEVIS campaign is a project of the Hawai`i Chapter of Refuse & Resist!
Read more...
www.refuseandresist.org
---
from: UNITE HERE, ACLU
Support the DREAM Act
The Development, Relief, and Education for Alien Minors Act (DREAM Act) S1291 and the Student Adjustment Act, HR 1918 are pending in Congress to clear up the immigration status issues and address federal barriers to education and work confronted by the U.S.-raised children of undocumented immigrants.
Under current law, 50-65,000 students graduate from American high schools each year who have been in the U.S. more than five years but who face limited prospects for completing their education or working legally in the United States because they were originally brought here by parents lacking immigration status. Among those prevented from completing their education are valedictorians, honors students, award winners, class presidents, and student leaders. These young people deserve a fresh start, both in fairness to them and in our national interest.
The DREAM Act would address this issue in two ways:
• by deleting a federal provision that interferes with a state's right to determine which students qualify as "residents" for purposes of in-state tuition or other state education benefits; and

• by providing a mechanism for certain long-term resident immigrant students with good moral character to apply for legal residency so that they can work and otherwise fully participate in their communities.
Take Action...
UNITE HERE

Read more...
ACLU
---
from: Friends Committee on National Legislation, Bill of Rights Defense Committee
SUPPORT THE CIVIL LIBERTIES RESTORATION ACT: H.R. 4591
The Civil Liberties Restoration Act (CLRA) was introduced by Congress on Wednesday, June 16, 2004. It aims to repeal those provisions of the Patriot Act which violate civil liberties, including restoring due process for those jailed by the government; stopping the targeting of immigrants instead of terrorists; and protecting privacy and ensuring limits on secret surveillance. The companion bill in the Senate is S. 2528.
Take Action...
Write to Congress
Friends Committee on National Legislation
Read more...
Bill of Rights Defense Committee
The Rights Working Group
The full text of CLRA (PDF)
Talking points on the CLRA
---
from: Coalición de Derechos Humanos/Alianza Indígena Sin Fronteras, AFL-CIO, American Immigration Lawyers Association
Support the SOLVE Act of 2004
Our immigration laws must be updated to reward the contributions of undocumented immigrants and to make it easier for people to come to this country through legal channels. Legislation to accomplish this goal has been introduced: The Safe, Orderly, Legal Visas and Enforcement Act (SOLVE). If enacted, the bill would provide an earned adjustment to legal status for America's undocumented immigrant workers, expand legal opportunities for workers coming to fill our labor needs in the future, reduce the backlog in the family immigration system, and establish a new program for workers coming to fill our temporary labor needs.
There is powerful opposition to this legislation in Congress. Let your Representative and Senators know you want immigration reform before they adjourn for the year.
Take Action...
Write to Congress
American Immigration Lawyers Association
Read More...
AFL-CIO
Read more...
Coalición de Derechos Humanos/Alianza Indígena Sin Fronteras