Latest Immigrant News from Across the Country
3/31: Empty jails hope to cash in on immigration crackdown

By Claudia Lauer - Associated Press

Several Texas counties that are struggling with debt because their jails have few or no prisoners hope to refill those cellblocks with a different kind of inmate: immigrants who have entered the country undocumented....

3/27: Nearly 300 Legal Experts: Attorney General Sessions Wrong on "Sanctuary" Cities

By Kemi Bello - Immigrant Legal Resource Center

Nearly 300 Legal Experts: Attorney General Sessions Wrong on "Sanctuary" Cities
Attorney General Falsely Claims "Sanctuary" Cities Violate Federal Law....

3/23: U.S. embassies ordered to identify population groups for tougher visa screening

By Yeganeh Torbati, Mica Rosenberg and Arshad Mohammed - Reuters

U.S. Secretary of State Rex Tillerson has directed U.S. diplomatic missions to identify "populations warranting increased scrutiny" and toughen screening for visa applicants in those groups, according to diplomatic cables seen by Reuters....

3/23: San Francisco passes preemptive law against religious registry

By Brett Wilkins - digitaljournal.com

Responding to anti-Muslim rhetoric, policies and actions of the Trump administration, San Francisco became the first U.S. city to preemptively prohibit participation in any religion-based registry....

3/22: Love Wins in Louisiana Court rules that Louisiana may not deny immigrants the right to marry

By Juan Gastelum - NILC; Stephen Boykewich - NOWCRJ

A federal district court ruled today that the state law preventing a Louisiana man from marrying is likely unconstitutional and issued an order to prevent the law from harming Louisianans....

3/21: Mayor of South Bend, Indiana: Why These Trump Voters Are Sticking Up For An Undocumented Neighbor

By Pete Buttigieg

It's consistent with their conservative values....

3/16: U.S. President Trump's 2018 Budget Outline Includes Significant Cuts For State, USAID, NIH, Other Agencies

By Kaiser Family Foundation

Trump's 'America first' budget slashes foreign aid, multilateral funding....

3/16: Quit stalking immigrants at California courthouses, chief justice tells ICE

By Angela Hart – Sacramento Bee

California Supreme Court Chief Justice Tani Cantil-Sakauye on Thursday told federal immigration officials to stop "stalking undocumented immigrants" at California courthouses....

More Past News..
Please Read!
Spring 2017 Monthly Immigrant News Summary
Spring 2017 U.S. Immigrant Alert! Newsletter
Trump's Racist Muslim Ban, Border Wall, Anti-Immigrant Riots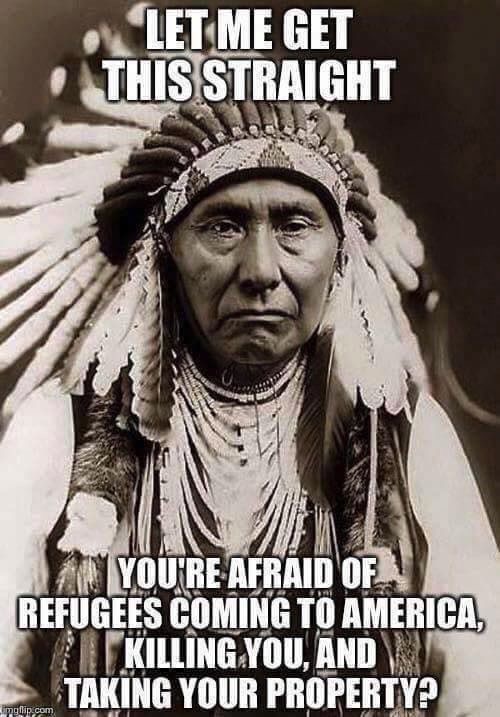 3/7: New Travel Ban, Same Poisonous Policy
Trump's revised travel ban should fail for exactly the reason the first one did.
Elizabeth Goitein | Contributor – US News & World Report
President Donald Trump's second try at an executive order halting immigration from certain majority-Muslim countries takes a markedly different tone from the first. It spends several pages discussing the perceived need for the policy, and it emphasizes the exceptions to the travel ban, rather than downplaying them as the prior version did. The clear intent is to convince the courts that the ban is the result of careful deliberation rather than religious animus.
But the tactical tweaks in this latest edition cannot rescue the order's constitutionality. Underneath the softened rhetoric and other adjustments lies the same poisonous policy: an effort to restrict Muslims' entry into the U.S.
The outlines of that effort are now familiar to both the American public and the courts. Subject to discretionary, case-by-case exceptions, the revised order bars the issuance of visas to people from six majority-Muslim countries – Syria, Iran, Libya, Sudan, Somalia and Yemen – for 90 days, and suspends the refugee admissions process for 120 days. The stated purpose of the freeze is to give federal agencies time to shore up the vetting process for people seeking entry to this country. Once that process is revamped, the ban will be extended for countries that cannot provide whatever new assurances the U.S. government seeks....
Read the article: http://www.immigrantsolidarity.org/cgi-bin/datacgi/database.cgi?file=Issues&report=SingleArticle&ArticleID=1772
May Day 2017 - Fight Back Racism! NO to Islamphobia, Border Wall and Immigrant Raid! We'll Never Be Silenced!
Call to Action!
Spring 2017 Monthly Immigrant News Summary

By National Immigrant Solidarity Network

2017 China Activist Solidarity Delegation
Projects of National Immigrant Solidarity Network (NISN) and Action LA Network
Fiscal sponsorships of Alliance for Global Justice
http://www.ChinaDelegation.org
China: Understand Chinese Society, History, Culture, Economic and Politics (10 Days)
June 30- July 9, 2017 and
November 16- November 25, 2017 delegations

Beijing, Shenzhen/Pearl River Delta Region, Hong Kong
China's Economy, Globalization, Working Class and Hong Kong (12 Days)
August 31 – September 11, 2017

China has a rich and dynamic cultural, political and revolutionary history. Unfortunately, most Americans know very little beyond what they hear and read in corporate-controlled media. This is mainly due to the ongoing Cold War, and the absence of information on China in U.S. educational curricula. During the 2016 presidential election both Trump and Clinton were highly critical of China. It seems likely that U.S.-China relations will greatly suffer. Can American activists see beyond the finger pointing of the politicians and the American elites?
We hope that you will join our upcoming delegation Beijing and Shanghai. Organized by major U.S.-based activist organization we will explore historic, cultural, social, political and economic aspects of China. Our goal is to help promote a deeper understanding and to realize the importance of U.S.-China relations to the US and the world. We will explore Chinese history including the Opium Wars, anti- imperialist struggles, WWII, and the Chinese Revolution led by the Communist Party. We will be visiting revolutionary museums and meeting with a wide variety of people, including middle-class Chinese, expatriates, NGO workers, officials, activists, workers, farmers, students, scholars, and others. We will be learning about Chinese society, history, culture, economics, and politics.
Contact Us:
By: E-Mail (Best) ActivistWeb@gmail.com

By: Internet (Web Chat)
Skype: leesiuhin
WeChat: 13621942847

By: Phone
(213)403-0131
May Day 2016
National Mobilization For Immigrant Workers Rights!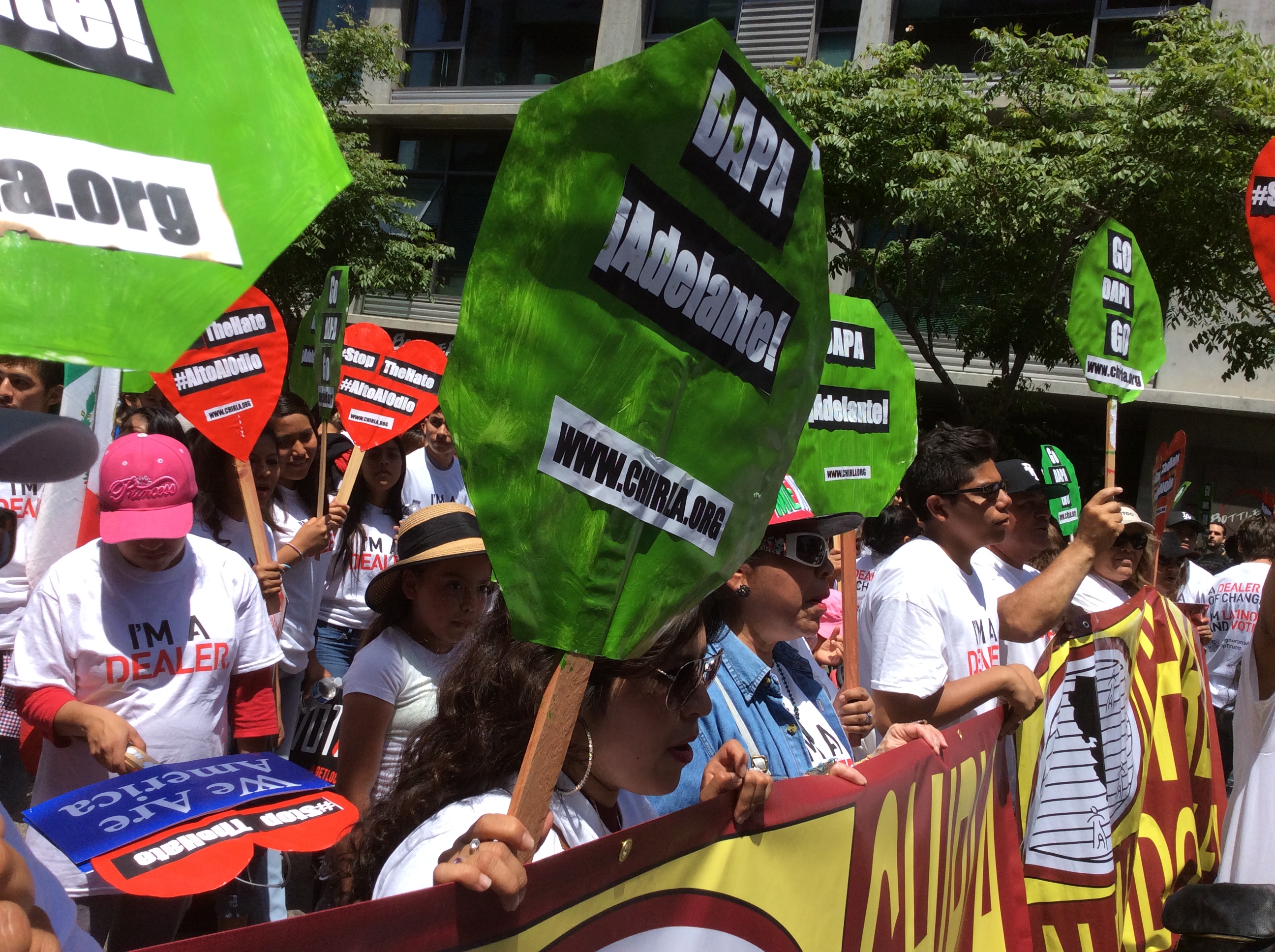 (Los Angeles May Day 2016)
http://www.ImmigrantSolidarity.org/MayDay2016/
National Immigrant Solidarity Network http://www.immigrantsolidarity.org

Lee Siu Hin
National Coordinator - National Immigrant Solidarity Network

Los Angeles, CA
Sunny Southern California May Day 2016, about thousand people organized by LA May Day Coalition participated in a multi-ethnic unity march, include Latinos, African American, Koreans and Chinese-American union members, as well as white activists, to join the march, demand immigrant rights, vote, union and NO to the Trump. Speakers includes: SEIU, Black Life Matters, KIWA, CARCEN, CHIRLA and so on. It was a powerful day!

Full report with photos: http://www.ImmigrantSolidarity.org/MayDay2016/

Past May Day Actions

May Day 2013

http://www.ImmigrantSolidarity.org/MayDay2013/

May Day 2010 Reports from Across the Country
May Day 2010 Reports Home Page

Los Angeles, May Day 2010
---
Past and Recent National Immigrant Solidarity Network Campaigns




National Immigrant Solidarity Network
4th National Grassroots Immigrant Strategy Conference
& Immigrant Rights Film Festival

April 10-12, 2009 Chicago, IL
Stop Immigrant Raids! Support Immigrant Workers Rights!
Together We Build A New Immigrant Rights Movement!
Successful Ending! Together We Build A New Immigrant Workers Rights and Justice Movements of 2009!
Conference Report, Campaign Proposals
National Immigrant Solidarity Network (NISN) is a grassroots, broad-based, multiethnic coalition of community, immigrant, labor, human rights and student activist groups, founded in 2002 in response to the urgent needs for the national coalition to fight immigrant bashing, support immigrant rights, no to the sweatshops exploitation and end to the racism on the community! We also actively linking our issues with different struggles: wars in Africa, the Americas, Asia, Iraq, Afghanistan, Palestine & Korea with sweatshops exploitation in Asia as well as in Los Angeles, New York; international arm sales and WTO, FTAA, NAFTA & CAFTA with AIDS, hunger, child labors and child solider; as well as multinational corporations and economic exploitation with racism and poverty at home—in order we can win the struggle together.
Between April 10-12, 2009 on Chicago, IL; over 110 organizers, activists and community members from African American, Native American, African immigrant, European Immigrant, Asian American, Latino/Latina, Arab-Muslim-North African, progressive labor, interfaith, LGBT, student, anti-war/peace and global justice groups from across the country. To meet face-to-face at to discuss how to build a new national, broad-based, immigrant rights/civil rights movement, and to set our 2009-2010 national grassroots immigrant campaign strategy.
We agrees together we'll focus on building all multi-ethnic, multi-constituent, broad-based grassroots immigrant rights movements run by de-centralized volunteer-based community-rooted immigrant rights activists from youth, workers and community members who can play more active role on campaign formulation and decision making for local coalition building to organize popular education campaigns, such as: campaign to against immigrant dentition, deportation & raids; immigrant labor rights movement; campaign against local anti-immigrant ordinance; comprehensive immigration reform (CIR) and linking the immigrant rights movement with other struggles, such as: anti-war and anti-globalization movements.
We welcomes our new steering committee member Alex Franco from Movement for Unconditional Amnesty, Philadelphia, PA.
We'll also discuss the lessons from the 2008 election and what we should expect from the new President and the Congress affecting immigrant legislation for the next two years.
We acknowledges that different people from different organizations, backgrounds have different believes on how to achieve the justice and better future for the tens of millions of immigrants across the country, and how immigrant rights movements can link to the broader peace and justice movements.
We had agreements, we have difference and even heated debates; after three days conference, at Sunday April 12th based on the feedbacks and proposals submitted to the conference, we had draft our new points of unity and strategic immigrant campaign proposals.
For those didn't able to come, we welcome your feedback and any suggestions of additions/modifications to siuhin@aol.com or info@immigrantsolidarity.org no later then Friday April 24, 2009.
For more information, please visit:
http://www.ImmigrantSolidarity.org/2009Conference/
E-mail: info@ImmigrantSolidarity.org
Phone: (773)942-2268

July 27-29, 2007 NISN National Grassroots Immigrant
Strategy Conference
University of Richmond, Richmond School of Law
Richmond, VA
3-Days conference Ends With Sucessful Adoptions of National Immigrant Solidarity Network 2007 - 2008 Strategic Immigrant Campaign Framework!

Based on the feedback from our members and allies we had formulated our 2007-2008 Strategic Immigrant Campaign Strategy during our July 27-29 National Grassroots Immigrant Strategy Conference in Richmond, VA. This is a non-binding resolution, that will only provide you a menu of suggested actions that can guide and encourage your local organization to discuss and choose which action(s) you would like to focus on in order to organize with us:
>> Read the Full Report and the Call
National Immigrant Solidarity Network Points of Unity
Great Article! (7/29 Richmond-Dispatch) Conference at UR on immigrant solidarity
---
Jan 29, 2007 Washigton D.C. Congressional Lobby
and National Call-In Day for Immigrant Rights
Organized by: National Immigrant Solidarity Network
On Monday, January 29, a group of us, representatives from San Francisco La Raza Legal Centro, National Organization of Women, veterans and I met with Speaker Nancy Pelosi's staff on immigration and present our open letter and exchanges ideas on the immigration issues. In addition, thank you for everyone who had visited and call your representatives at the Call-In day, at dozen states. >> Read the Congressional Lobby Day Report
More Details | More Information About the Open Letter | Endorse the Letter
---
May Day 2006 - We Have Made History!
Ten Millions Across the Country Take to the Streets to Demand Immigrant Rights!
http://www.NoHR4437.org http://www.ImmigrantSolidarity.org
Today was one of the most important days in U.S. history: ten millions of immigrants, activists and allies in over 200 cities from across the country chose to skip work, school, and the normal daily routine to participate in "A Day Without Immigrants." We held a national boycott, general strikes, rallies and symbolic actions in order to demand basic rights for all immigrants, and to build a new multi-ethnic united civil rights movement for the 21st century!