Latest Immigrant News from Across the Country
6/8: Trump's deportations of Dreamers could usher in new economic, legal woes

By Ambar Pardilla - POLITICO

President Donald Trump has made conflicting comments about the status of undocumented immigrants who entered the country as children. And if he does decide to dissolve the Obama-era program that provided some protections for them, there could be economic and legal complications across the country....

6/2: WHY POLICE CHIEFS OPPOSE TEXAS'S NEW ANTI-IMMIGRANT LAW

By Jonathan Blitzer - The New Yorker

Texas's law, known as Senate Bill 4 (S.B. 4), is in some ways even harsher than the one Arizona passed seven years ago: the new measure allows state authorities to punish any police chief or sheriff who tells his or her subordinates not to act as de-facto immigration agents....

5/31: Under the Shadow of Trump, Dismantling Obama's Deportation Machine (2)

By Sarah Lazare – In These Times

....As recently as this month, a federal judge ruled that Stewart can force-feed Vitaly Novikov, a 61-year-old detained Ukrainian man, who had been waging a hunger strike. The forced feeding of people incarcerated in Guantanamo Bay was condemned as torture by the United Nations' human rights office in 2013....

5/31: Under the Shadow of Trump, Dismantling Obama's Deportation Machine (1)

By Sarah Lazare – In These Times

Communities are fighting back against an immigrant prison in rural Georgia....

5/31: The Immigrant Crackdown Is a Cash Cow for Private Prisons

By Samuel Gilbert - Vice

Earlier this month, Daniel Ragsdale, the second-in-command at the Immigration and Customs Enforcement Agency (ICE), confirmed he will be leaving his position to work at GEO Group, the nation's second-largest private prison company....

5/29: Latinos are reporting fewer sexual assaults amid a climate of fear in immigrant communities, LAPD says

By James Queally – Los Angeles Times

Los Angeles Police Chief Charlie Beck said Tuesday that reports of sexual assault and domestic violence made by the city's Latino residents have plummeted this year amid concerns that immigrants in the country illegally could risk deportation by interacting with police or testifying in court....

5/25: Advocates Call for Closure of Georgia Immigration Detention Centers Following Two Immigrant Deaths

By Detention Watch Network (DWN)

May 15th Jimenez-Joseph, 27, was found unresponsive after spending 19 days in solitary confinement at the Stewart Detention Center. ICE is reporting the death as a suicide. Following requests from the mother of Jimenez-Joseph, members of El Refugio, an organization that provides hospitality to loved ones visiting those detained at Stewart, attempted to visit Jean Carlos, but were turned away citing the conditions of his solitary confinement....

5/25: ACLU Sues to Expose Treatment of Hunger Strikers in ICE Detention

By Inga Sarda-Sorensen - ACLU

Reports of Hunger Strikers Being Force-Fed and Shunted Into Solitary Confinement Raise Serious Concerns....

More Past News..
Please Read!
Summer 2017 Monthly Immigrant News Summary
Summer 2017 U.S. Immigrant Alert! Newsletter
Anti-Immigrant Racism at Trump Era….
Fight Back!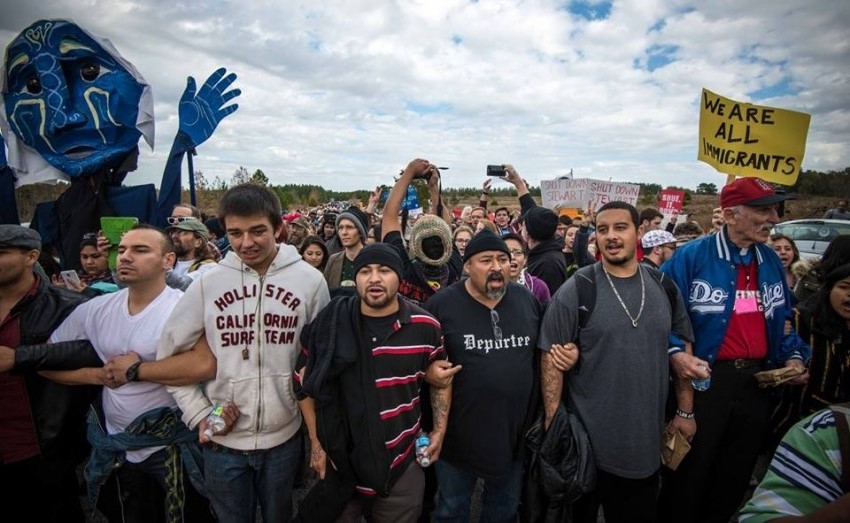 Like immigrant prisons across the country, the Stewart Detention Center in southwestern Georgia is plagued with accusations of human rights abuses. (Steve Pavey/ Hope in Focus)
4/16: ICE immigration arrests of noncriminals double under Trump
Maria Sacchetti – Washington Post
Immigration arrests rose 32.6 percent in the first weeks of the Trump administration, with newly empowered federal agents intensifying their pursuit of not just undocumented immigrants with criminal records, but also thousands of illegal immigrants who have been otherwise law-abiding.
U.S. Immigration and Customs Enforcement arrested 21,362 immigrants, mostly convicted criminals, from January through mid-March, compared to 16,104 during the same period last year, according to statistics requested by The Washington Post.
Arrests of immigrants with no criminal records more than doubled to 5,441, the clearest sign yet that President Trump has ditched his predecessor's protective stance toward most of the 11 million undocumented immigrants in the United States.
Advocates for immigrants say the unbridled enforcement has led to a sharp drop in reports from Latinos of sexual assaults and other crimes in Houston and Los Angeles, and terrified immigrant communities across the United States. A prosecutor said the presence of immigration agents in state and local courthouses, which advocates say has increased under the Trump administration, makes it harder to prosecute crime....
Read the article: http://www.immigrantsolidarity.org/cgi-bin/datacgi/database.cgi?file=Issues&report=SingleArticle&ArticleID=1796
5/31: Under the Shadow of Trump, Dismantling Obama's Deportation Machine
Sarah Lazare – In These Times
Like immigrant prisons across the country, the Stewart Detention Center in southwestern Georgia is plagued with accusations of human rights abuses, including charges that its authorities routinely deny healthcare, provide substandard food and water and subject people to prolonged segregation. After a 27-year-old Panamanian national committed suicide at the facility on May 15, following a 19-day stint in solitary confinement, a coalition of social justice organizations is demanding that the detention center be shuttered on the grounds that it constitutes a deadly human rights violation zone that cannot be salvaged.
Stewart is not the only Georgia facility that has raised the alarm of the coalition, which includes Project South, the Black Alliance for Just Immigration and Georgia Detention Watch. Earlier this month, the groups protested outside the downtown Atlanta offices of U.S. Immigration and Customs Enforcement (ICE) to demand the closure of centers, including the Atlanta City Detention Center, which was the custodian of Atulkumar Babubhai Patel, a 58-year-old Indian national, when he died this month, reportedly of complications from congestive heart failure.
"We need to shut down these detention centers and end solitary confinement, which does irreversible damage to mental health," Lovette Thompson, an organizer with the Black Alliance for Just Immigration, told In These Times. "It is very important that we end these detention centers altogether. Prisons are the problem with our society and definitely not the solution."....
Read the article: http://www.immigrantsolidarity.org/cgi-bin/datacgi/database.cgi?file=Issues&report=SingleArticle&ArticleID=1811
Summer 2017 Monthly Immigrant News Summary

By National Immigrant Solidarity Network

2017 China Activist Solidarity Delegation
Projects of National Immigrant Solidarity Network (NISN) and Action LA Network
Fiscal sponsorships of Alliance for Global Justice
http://www.ChinaDelegation.org
Beijing, Shenzhen/Pearl River Delta Region, Hong Kong
China's Economy, Globalization, Working Class and Hong Kong (12 Days)
August 31 – September 11, 2017
China: Understand Chinese Society, History, Culture, Economic and Politics (10 Days)
November 16- November 25, 2017 delegations

China has a rich and dynamic cultural, political and revolutionary history. Unfortunately, most Americans know very little beyond what they hear and read in corporate-controlled media. This is mainly due to the ongoing Cold War, and the absence of information on China in U.S. educational curricula. During the 2016 presidential election both Trump and Clinton were highly critical of China. It seems likely that U.S.-China relations will greatly suffer. Can American activists see beyond the finger pointing of the politicians and the American elites?
We hope that you will join our upcoming delegation Beijing and Shanghai. Organized by major U.S.-based activist organization we will explore historic, cultural, social, political and economic aspects of China. Our goal is to help promote a deeper understanding and to realize the importance of U.S.-China relations to the US and the world. We will explore Chinese history including the Opium Wars, anti- imperialist struggles, WWII, and the Chinese Revolution led by the Communist Party. We will be visiting revolutionary museums and meeting with a wide variety of people, including middle-class Chinese, expatriates, NGO workers, officials, activists, workers, farmers, students, scholars, and others. We will be learning about Chinese society, history, culture, economics, and politics.
Contact Us:
By: E-Mail (Best) ActivistWeb@gmail.com

By: Internet (Web Chat)
Skype: leesiuhin
WeChat: 13621942847

By: Phone
(213)403-0131
May Day 2016
National Mobilization For Immigrant Workers Rights!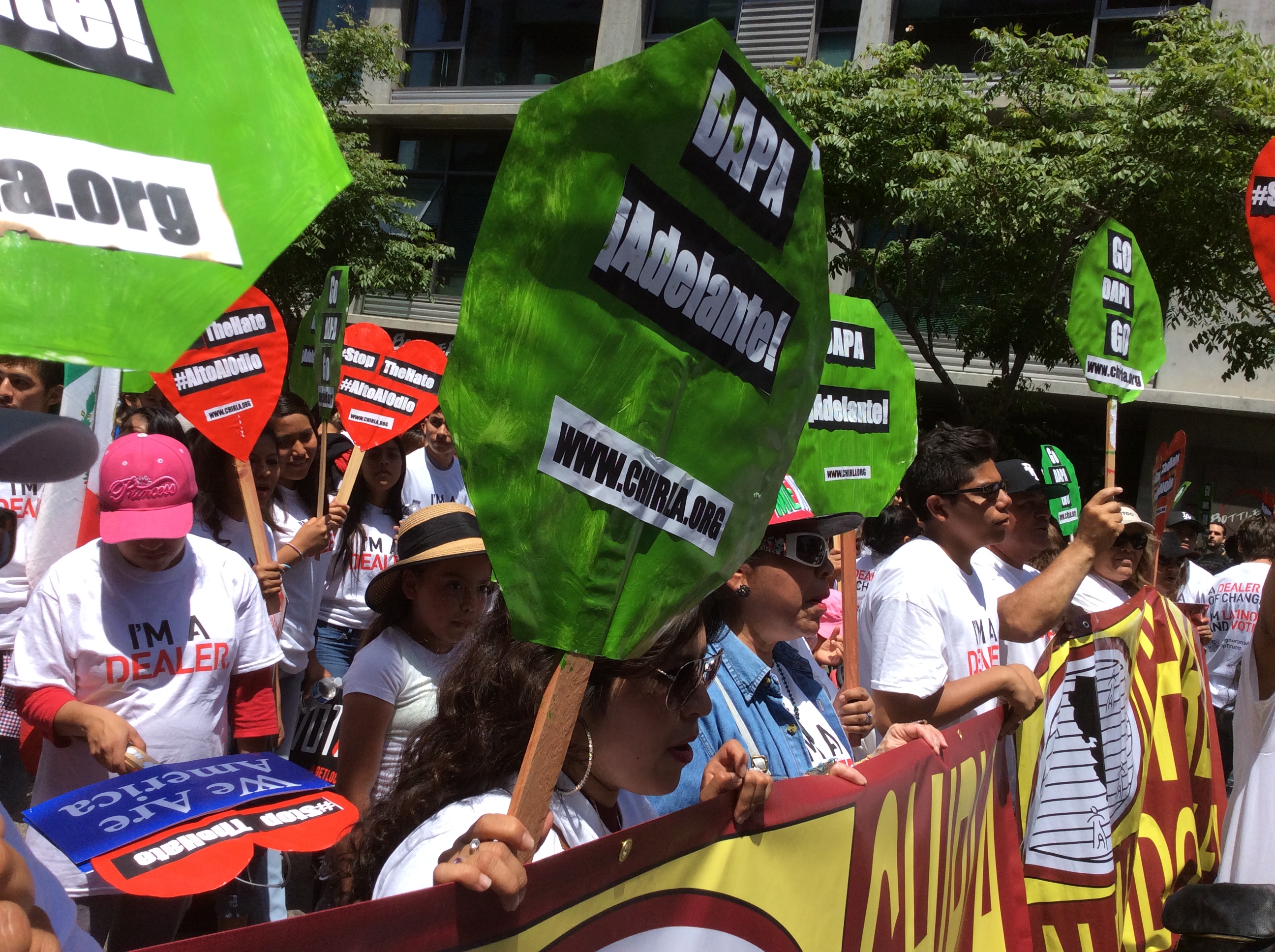 (Los Angeles May Day 2016)
http://www.ImmigrantSolidarity.org/MayDay2016/
National Immigrant Solidarity Network http://www.immigrantsolidarity.org

Lee Siu Hin
National Coordinator - National Immigrant Solidarity Network

Los Angeles, CA
Sunny Southern California May Day 2016, about thousand people organized by LA May Day Coalition participated in a multi-ethnic unity march, include Latinos, African American, Koreans and Chinese-American union members, as well as white activists, to join the march, demand immigrant rights, vote, union and NO to the Trump. Speakers includes: SEIU, Black Life Matters, KIWA, CARCEN, CHIRLA and so on. It was a powerful day!

Full report with photos: http://www.ImmigrantSolidarity.org/MayDay2016/

Past May Day Actions

May Day 2013

http://www.ImmigrantSolidarity.org/MayDay2013/

May Day 2010 Reports from Across the Country
May Day 2010 Reports Home Page

Los Angeles, May Day 2010
---
Past and Recent National Immigrant Solidarity Network Campaigns




National Immigrant Solidarity Network
4th National Grassroots Immigrant Strategy Conference
& Immigrant Rights Film Festival

April 10-12, 2009 Chicago, IL
Stop Immigrant Raids! Support Immigrant Workers Rights!
Together We Build A New Immigrant Rights Movement!
Successful Ending! Together We Build A New Immigrant Workers Rights and Justice Movements of 2009!
Conference Report, Campaign Proposals
National Immigrant Solidarity Network (NISN) is a grassroots, broad-based, multiethnic coalition of community, immigrant, labor, human rights and student activist groups, founded in 2002 in response to the urgent needs for the national coalition to fight immigrant bashing, support immigrant rights, no to the sweatshops exploitation and end to the racism on the community! We also actively linking our issues with different struggles: wars in Africa, the Americas, Asia, Iraq, Afghanistan, Palestine & Korea with sweatshops exploitation in Asia as well as in Los Angeles, New York; international arm sales and WTO, FTAA, NAFTA & CAFTA with AIDS, hunger, child labors and child solider; as well as multinational corporations and economic exploitation with racism and poverty at home—in order we can win the struggle together.
Between April 10-12, 2009 on Chicago, IL; over 110 organizers, activists and community members from African American, Native American, African immigrant, European Immigrant, Asian American, Latino/Latina, Arab-Muslim-North African, progressive labor, interfaith, LGBT, student, anti-war/peace and global justice groups from across the country. To meet face-to-face at to discuss how to build a new national, broad-based, immigrant rights/civil rights movement, and to set our 2009-2010 national grassroots immigrant campaign strategy.
We agrees together we'll focus on building all multi-ethnic, multi-constituent, broad-based grassroots immigrant rights movements run by de-centralized volunteer-based community-rooted immigrant rights activists from youth, workers and community members who can play more active role on campaign formulation and decision making for local coalition building to organize popular education campaigns, such as: campaign to against immigrant dentition, deportation & raids; immigrant labor rights movement; campaign against local anti-immigrant ordinance; comprehensive immigration reform (CIR) and linking the immigrant rights movement with other struggles, such as: anti-war and anti-globalization movements.
We welcomes our new steering committee member Alex Franco from Movement for Unconditional Amnesty, Philadelphia, PA.
We'll also discuss the lessons from the 2008 election and what we should expect from the new President and the Congress affecting immigrant legislation for the next two years.
We acknowledges that different people from different organizations, backgrounds have different believes on how to achieve the justice and better future for the tens of millions of immigrants across the country, and how immigrant rights movements can link to the broader peace and justice movements.
We had agreements, we have difference and even heated debates; after three days conference, at Sunday April 12th based on the feedbacks and proposals submitted to the conference, we had draft our new points of unity and strategic immigrant campaign proposals.
For those didn't able to come, we welcome your feedback and any suggestions of additions/modifications to siuhin@aol.com or info@immigrantsolidarity.org no later then Friday April 24, 2009.
For more information, please visit:
http://www.ImmigrantSolidarity.org/2009Conference/
E-mail: info@ImmigrantSolidarity.org
Phone: (773)942-2268

July 27-29, 2007 NISN National Grassroots Immigrant
Strategy Conference
University of Richmond, Richmond School of Law
Richmond, VA
3-Days conference Ends With Sucessful Adoptions of National Immigrant Solidarity Network 2007 - 2008 Strategic Immigrant Campaign Framework!

Based on the feedback from our members and allies we had formulated our 2007-2008 Strategic Immigrant Campaign Strategy during our July 27-29 National Grassroots Immigrant Strategy Conference in Richmond, VA. This is a non-binding resolution, that will only provide you a menu of suggested actions that can guide and encourage your local organization to discuss and choose which action(s) you would like to focus on in order to organize with us:
>> Read the Full Report and the Call
National Immigrant Solidarity Network Points of Unity
Great Article! (7/29 Richmond-Dispatch) Conference at UR on immigrant solidarity
---
Jan 29, 2007 Washigton D.C. Congressional Lobby
and National Call-In Day for Immigrant Rights
Organized by: National Immigrant Solidarity Network
On Monday, January 29, a group of us, representatives from San Francisco La Raza Legal Centro, National Organization of Women, veterans and I met with Speaker Nancy Pelosi's staff on immigration and present our open letter and exchanges ideas on the immigration issues. In addition, thank you for everyone who had visited and call your representatives at the Call-In day, at dozen states. >> Read the Congressional Lobby Day Report
More Details | More Information About the Open Letter | Endorse the Letter
---
May Day 2006 - We Have Made History!
Ten Millions Across the Country Take to the Streets to Demand Immigrant Rights!
http://www.NoHR4437.org http://www.ImmigrantSolidarity.org
Today was one of the most important days in U.S. history: ten millions of immigrants, activists and allies in over 200 cities from across the country chose to skip work, school, and the normal daily routine to participate in "A Day Without Immigrants." We held a national boycott, general strikes, rallies and symbolic actions in order to demand basic rights for all immigrants, and to build a new multi-ethnic united civil rights movement for the 21st century!