Global
May Day marked by global workers' protests
Hundreds of thousands march in Cuba in support of workers' rights, and in honor of late Venezuelan ally Hugo Chavez.
01 May 2013 Al-Jazeela
http://www.aljazeera.com/news/asia-pacific/2013/05/20135175751177425.html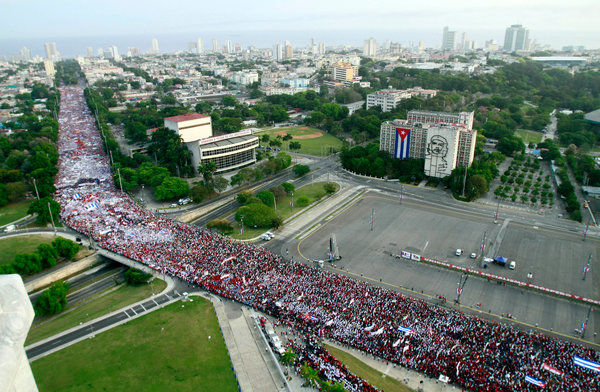 Demonstrations have taken place across the world as protesters gather to mark May Day, the traditional date for demanding better workers' rights.
Hundreds of thousands of Cubans turned out for one of the world's largest parades in capital Havana on Wednesday, carrying banners and flags in celebration of workers' rights and in support of the ruling Communist Party.
This year's march is dedicated to the recently deceased Venezuelan leader Hugo Chavez, who was an ally of Cuba, and who had provided a lifeline for Cuba's government during recent hard economic times.
In Venezuela, tens of thousands of people both from the government and the opposition staged rival marches in Caracas, just hours after a brawl in the legislature injured several opposition lawmakers.
In the United States' third largest city of Chicago, May Day marchers called for end to deportations of undocumented immigrants. Unlike in the past however, the march only attracted at least a thousand protesters.
Protests first began in Asia, with tens of thousands of workers in Jakarta calling for improved conditions and mobilising against government plans to cut fuel subsidies.
Al Jazeera's Step Vaessen, reporting from Jakarta, said described the crowd as "the biggest rally I've seen here".
More than 20,000 people flooded the capital, angered by President Susilo Bambang Yudhoyono's announcement on Tuesday to raise price of fuel.
Istanbul clashes
With 80 countries around the world marking May 1 as a public holiday, Istanbul's Taksim Square was in lockdown on Wednesday, after the Turkish government banned May Day protests there.
The square is the site of a 1977 May Day massacre in which dozens of people died under disputed circumstances.
Al Jazeera's Hashem Ahelbarra, reporting from Istanbul, said: "There have been scuffles, particularly in areas that lead to Taksim Square, which has been sealed off.
"Protesters say they should be given access to celebrate May 1 in a place of symbolic importance; they want to honour the memory of those who were killed here. There is a tug of war under way between the government and people."
Earlier images showed police spraying water at protesters who threw objects at their vehicles.
Cambodia workers
In Phnom Pehn, the Cambodian capital, garment factory workers demanded higher wages and better working conditions.
Organisers said about 5,000 demonstrators, including union workers, gathered for the rally, chanting slogans and holding banners.
Protesters came from 16 unions and associations in Cambodia to mark International Labour Day and urge whoever wins the general election in July to meet their demands.
"I demand that my pay is increased to $150 per month," said garment worker Neang Leakena, from the Chinese-owned Deum Por garment factory.
In the Philippines, thousands of contract workers marched through the streets of the capital, Manila.
Banned from forming labour unions, the workers demanded that the government strengthen their rights.
European protests
In Athens, Greece's capital, the main public and private sector unions called a 24-hour strike to protest against the government's austerity policies.
Greece has had to enforce tax rises and spending cuts as part of deals with the International Monetary Fund and its eurozone partners to overcome a crippling debt crisis.
On Sunday, parliament approved a bill which will leave 15,000 civil servants out of work by the end of next year.
In Moscow, the Russian capital, authorities sanctioned 16 separate rallies, including one led by Vladimir Putin's ruling United Russia party.
Other groups, including the Communist Party, are holding gatherings of their own. Up to 90,000 people are expected.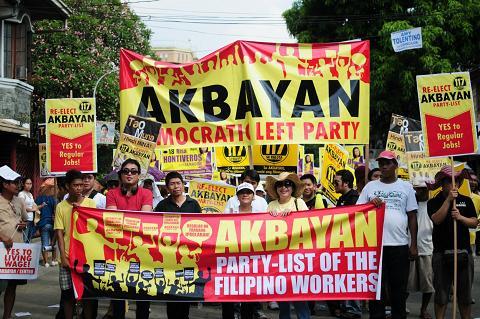 (Manila, The Philippines)
Los Angeles, CA
Thousands call for immigration reform in Los Angeles May Day march
Alex Dobuzinskis - Reuters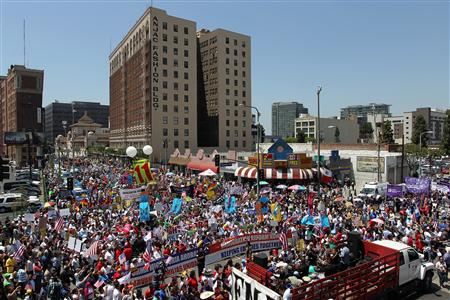 May Day 2013 Los Angeles March Video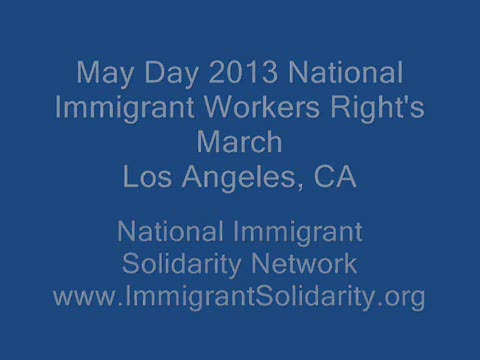 LINK: http://www.activistvideo.org/views.asp?id=3119
LOS ANGELES (Reuters) - Thousands of mostly Latino protesters marched through downtown Los Angeles in a boisterous but peaceful May Day rally on Wednesday urging an overhaul of immigration laws to provide potential citizenship for millions of undocumented residents.
The march was believed to be the largest of more than a dozen similar demonstrations planned in cities across California by a coalition of organized labor activists, students, civil rights advocates and members of the clergy.
In Arizona, where a state crackdown against illegal immigration was signed into law three years ago, organizers expected several hundred people to join a late-afternoon rally outside the state Capitol in Phoenix, ahead of a march through downtown.
The protests come about two weeks after a bipartisan group of U.S. senators introduced an 844-page bill, backed by President Barack Obama, that would rewrite America's immigration laws.
A centerpiece of the measure would create a path to legal status and ultimately citizenship for many of the 11 million undocumented immigrants in the United States.
It also aims to secure the U.S. border with Mexico against illegal entry and to make it easier for industry, particularly high-tech business and agriculture, to hire workers from abroad when needed.
Obama has made immigration reform one of his top priorities for 2013.
The protesters, who are generally supportive of the proposed immigration revamp, called for the U.S. government to halt deportations of individuals who are potentially eligible for eventual citizenship.
Waving American flags and carrying signs with the slogan, "Stop deportations," the demonstrators chanted in Spanish, "Obama! Escucha! Estamos en la lucha!" ("Obama! Listen! We are in the fight!"), as they marched under sunny skies down one of downtown's main thoroughfares.
The march spanned across more than two large city blocks, and one police officer told Reuters that unofficial estimates put the size of the crowd at roughly 3,500 people. No arrests were reported.
Wendy Carrillo, a spokeswoman for the Service Employees International Union, one of the organizing groups, said march leaders expected to draw at least 10,000 demonstrators throughout the day.
"I think it's a really good start to get people to come together to feel empowered," said Raiza Arias, 19, a college student who wore a black traditional Mexican-style dress and a scarf over her pink-dyed hair, as she walked at the front of the march.
The throng paraded behind a flatbed truck carrying a band playing festive cumbia music.
While most protesters appeared to be Latino, there were a number of Asian groups, including a Korean-American contingent who banged on traditional drums strapped to their torsos.
(Additional reporting by Richard Cowan in Washington and Tim Gaynor in Phoenix; Writing by Steve Gorman)


Milwaukee, WI

Thousands March in Milwaukee For A Broad Path to Citizenship
on May Day

Congresswoman Gwen Moore: "Enough to the suffering of families being separated; enough to US citizen children being put in foster care. Ya basta! Now is the time for reform."

Voces de la Frontera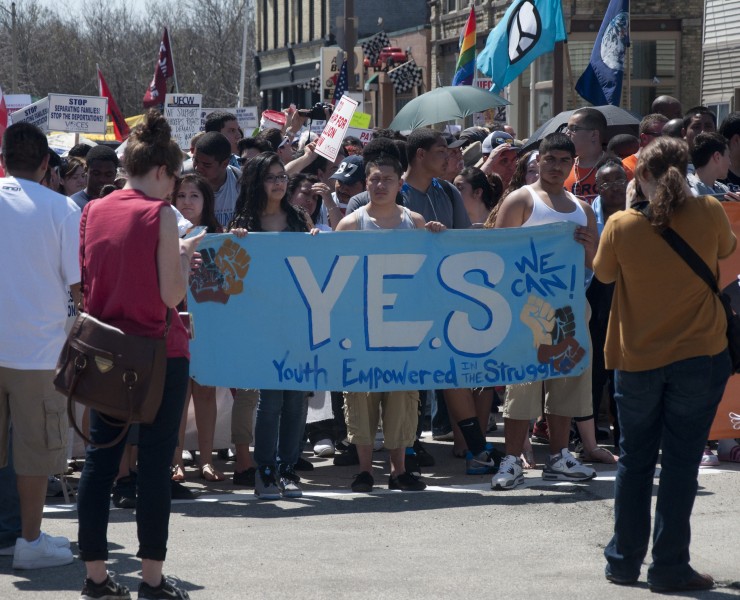 MILWAUKEE- As part of a national day of action focusing on amendments to the US Senate's proposed immigration reform bill, thousands of people marched through the streets of Milwaukee today. Voces executive director Christine Neumann-Ortiz says that this year's May Day march happened at a historic moment, when the opportunity to pass federal immigration reform has never been better.

"This is both a moment of celebration for our progress, and a time to reflect on the fact that we haven't won the fight yet. Unity and action are more necessary than ever to achieve reform that keeps families together, protects all workers, ends the criminalization of immigrants, and doesn't discriminate against other groups by denying diversity visas, or LGBT families the right to be together."

Amongst the speakers were a married couple who work in Wisconsin's dairy industry, Eduardo and Nancy Patiño. Eduardo is facing deportation on May 31st. Wisconsin's signature dairy industry depends on a forty percent immigrant workforce.

"I'm a dairy worker, and this is a very important industry that boosts our state's economy. I work very hard to put bread on the table for my family. And it is a great injustice that I am facing separation from them simply because a police officer stopped me because of the color of my skin. I am not a criminal."

Congresswoman Gwen Moore rallied the crowd, saying "Your tireless efforts have gotten us this far, and this bill should have all of your fingerprints on it."

Wisconsin Senator Tammy Baldwin echoed this message in a statement of support, as she was out of state: "For me, this issue is personal as I hear the stories of people both young and old whose families have been torn apart. Their hopes to live the American dream have been stopped short. I recently had a chance to meet with young leaders, known as Dreamers, and their stories were inspiring to me because they are American stories."

Erica Sanchez, a DREAMer and member of Youth Empowered in Struggle (YES) said: "Today I am representing a million DREAMers who come from mixed immigration status families. While I am grateful that the Senate proposal offers DREAMers a five year path to citizenship, our parents, who were the original DREAMers, deserve the same."

Terry Cooper, an African-American veteran employee of Palermo Villa, who was fired for supporting the organizing campaign at his workplace, told the crowd:
"My story is the same as millions of African American workers and millions of undocumented workers across America. And it will take all of our communities uniting to stop the corporate exploitation of our families. I know that what I did was the right thing, and it is for that reason that I am standing with my co-workers in trying to get Palermo to negotiate a fair settlement and respect the people who built their company."
The march was sponsored by many local immigrant small businesses, and community groups including labor unions, faith, LGBT, and more.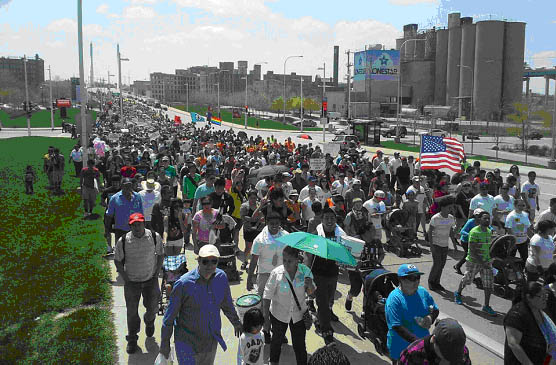 (2013 May Day March in Milwaukee. Photo credit: Voces de la Frontera)

Boston, MA
May Day March to East Boston Draws Thousands
by Jake Carman - Cradle of Liberty News.
http://cradleoflibertynews.org/a-day-of-action-boston-may-day-events/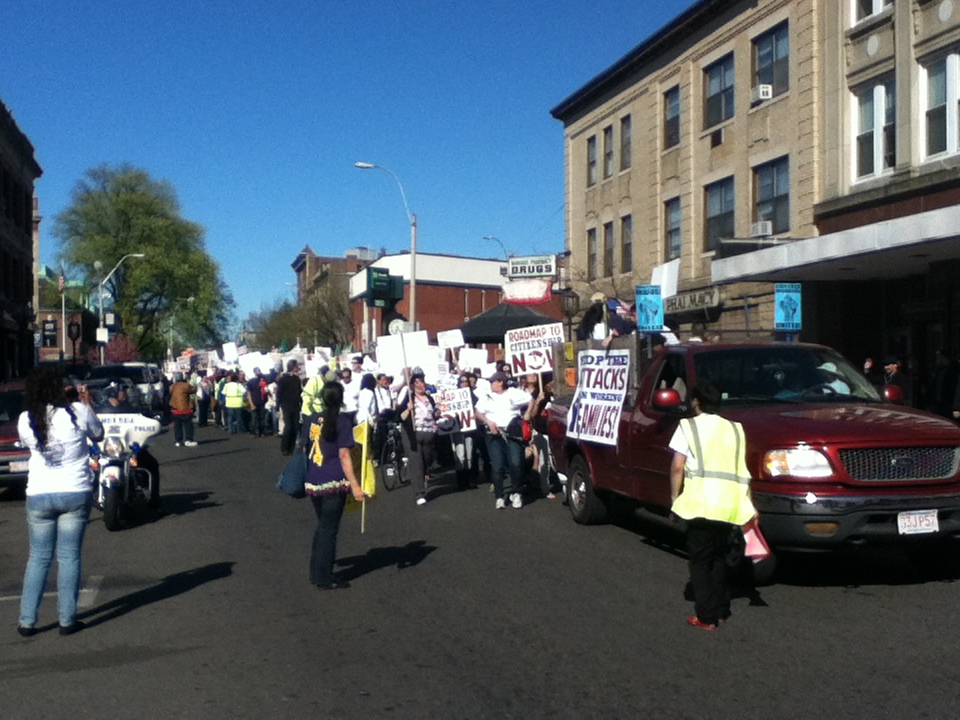 On May 1st, 2013 at 5pm, around three thousand marchers poured into Central Square in East Cambridge, joining hundreds already gathered to welcome them on the long march from Chelsea, Everett, and Revere. Called by the May 1st Coalition, the annual march celebrates International Workers Day, and promotes immigration reform and a quick path to legalization for the approximately 11 million undocumented immigrant workers (1) living in the United States.
Two feeder marches, one from Everett and one from Revere, merged at 4pm with a large rally in front of Chelsea city hall. From there, thousands paraded peacefully, chanting "Si se puede, (We can do it)" "Today we march, tomorrow we vote," "We are a nation of immigrants," and "Obama, escucha, estamos en la lucha (Obama, we are in the struggle)." Some of the many organizations present included Chelsea United Against the Wars, Chelsea Collaborative, City Life/Vida Urbana, FMLN (Farabundo Martí National Liberation Front - the ruling leftist party in El Salvador), Brazilian Mothers Group, The Industrial Workers of the World, Unite Here Local 26, Common Struggle/Lucha Común, and Service Employees International Union (SEIU). The marchers were workers, both documented and not, from all across the Boston area, of every age and nationality.
May Day as International Workers Day harkens back to 1886, when Chicago's workers led a national general strike for the eight hour day on May 1st. The movement gained global renown after the May 4th Haymarket Massacre, when police and anarchists clashed over the police shooting of striking
workers on a picket line the previous day. (2) Though celebrated in over 80 countries around the world, May Day isn't recognized in the United States where it began. The modern Immigrant Workers Movement revived May Day in the United States with the 2006 Great American Boycott. Local and International media (corporate media…that is) failed to cover this year's mass gathering in East Boston.

New York, NY
At NYC May Day rally, calls for a more liberal immigration reform bill
Liz Goodwin - Yahoo! News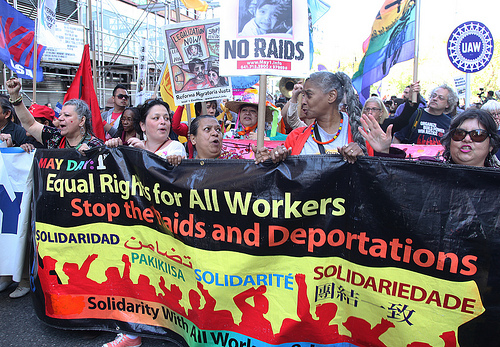 (Photo: Greg Dunkel)
One might imagine that activists at the pro-immigrant, pro-labor May Day rally in New York City would be happy about the bipartisan immigration reform bill currently in the Senate. But signs and activists at Wednesday's rally called the current draft bill an "unjust" plan that would leave out too many immigrants in its legalization scheme and focus too much on increased enforcement at the border.
One popular sign at the rally featured the face of Sen. Chuck Schumer, D-N.Y., behind barbed wire. The words: "No to Schumer and the Gang of 8," in Spanish-referring to the eight senators who hashed out the plan.
Some activists said the immigration compromise-which would trade stricter enforcement of current laws for a 13-year path to citizenship for most of the nation's 11 million unauthorized immigrants-is unjust and unacceptable.
The rally was part of 85 May Day demonstrations in Los Angeles, Chicago, Phoenix and other cities pushing for immigration reform and labor rights. They drew thousands of protesters, according to organizers.
"I speak for most immigrants when I say the gang of 8 is doing a bill that will give us almost nothing," said Carlos Canales, a community organizer from Freehold, N.J. "It's going to end up to be an elitist immigration reform."
Canales said he's organizing a hunger strike in front of Schumer's New York office in the coming weeks to urge him to change the bill to address criticisms from the left. Canales objects to the requirement that immigrants who want to be legalized must prove they've been employed since December of 2011 to qualify. He said many unauthorized immigrants will have trouble proving employment because they work in more transitory jobs that don't keep records.
A Schumer spokesman, Max Young, said the bill has drawn "wide support among prominent Latino and pro-immigration organizations." And an organizer of the May Day rallies, Ben Monterroso, stressed before the rally that "there's so many good things in the bill," even if activists have some concerns.
"Sen. Schumer is working with the length and breadth of the Hispanic community to pass an immigration bill that accelerates family reunification and that sets a path to citizenship that gets all eligible 11 million people out of the shadows and into legal status as quickly as possible," said Young.
Other activists at the rally said they object to the way the bill would shift the legal immigration system to prioritize skill- and employment-based visas. Under the current proposal, visas for adult siblings of U.S. citizens would be eliminated and a cut-off age for applying for green cards for adult children would be instituted.
Christina Chang, an advocacy associate for the Korean American group Minkwon Center for Community Action, said she does not believe the current bill is unjust, but that she hopes it changes substantially in the coming weeks. "It's a fundamental change from a family-based immigration system to one that's merit based," Chang said.
Her group also believes that immigrants could end up waiting 20 years or longer to become citizens under the bill if lawmakers continue to make the process contingent on the U.S.-Mexico border meeting certain security standards.
The Senate Judiciary Committee is scheduled to hold a hearing on the bill May 9. Advocates believe it will be introduced on the Senate floor by May 25.

May Day 2013 Report Page 2 | Page 3