May Day 2013 - National Immigrant Workers Rights March!
http://www.ImmigrantSolidarity.org/MayDay2013/
May Day 2013 Reports from Across the Country (PDF Document)

Chicago, IL
May Day In Chicago: Thousands Issue Call For Immigration Reform, End To Deportations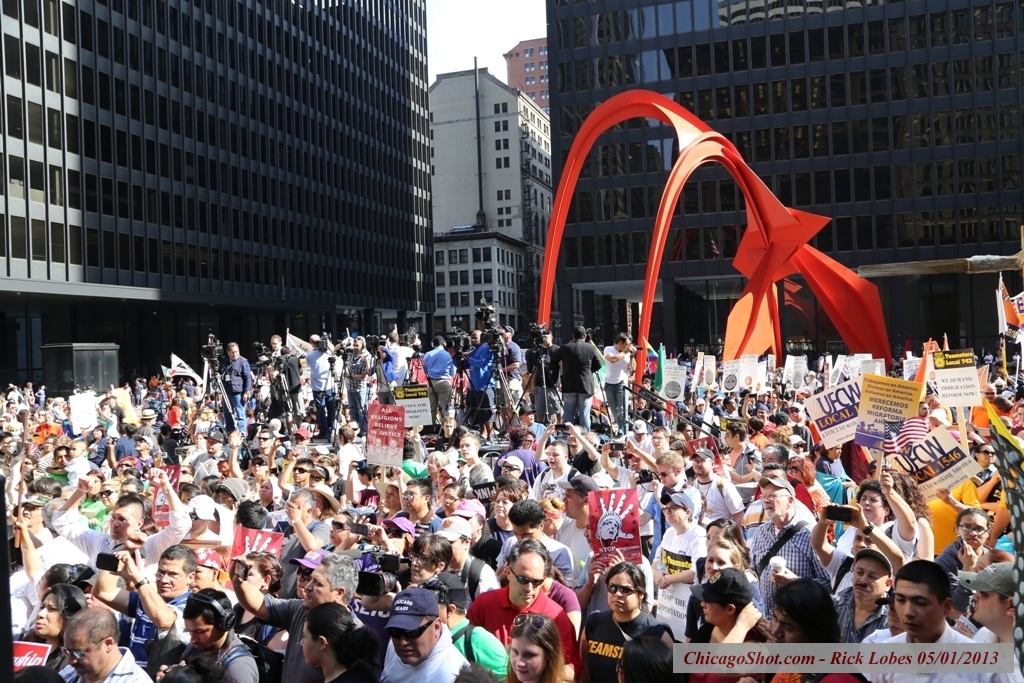 (Associated Press) Thousands of demonstrators poured into Chicago's streets on Wednesday -- May Day -- as part of a nationwide call for comprehensive immigration reform, worker's rights and an end to deportations.
Among the marchers in Chicago was Yolanda Villadomec, who emphasized to ABC Chicago that the issues share a central thread of "family unity," which she described as "very important" to her.
"That's the point that I always look at: family unity. We want the mother, the father, the children together as a family," Villadomec told the station.
The peaceful march -- only one isolated arrest was reported -- began at 2 p.m. on Wednesday at Union Park and proceeded to Federal Plaza in the Loop for a late afternoon rally. Demonstrators also rallied at the Haymarket monument in the afternoon.
Many demonstrators carried signs urging President Obama to cease deportations and embrace a comprehensive immigration reform platform. According to Chicago Sun-Times, many marchers chanted in Spanish, "Yes, we can. Stop deportations."
U.S. Sen. Dick Durbin was on hand for the Federal Plaza rally and told the crowd to continue their push for change. Durbin said that Congress currently has "the best chance we have had in 25 years" for comprehensive immigration reform, according to the Chicago Tribune. Two weeks ago, Durbin was among a bipartisan "gang of eight" that introduced an immigration bill -- which has since been the subject of criticism from pro-reform groups -- in Washington. (Read below to learn more about the proposal.)
"We have to seize that opportunity," Durbin said, according to the newspaper.
Also among the demonstrators was Aracly Rafael, a 35-year-old restaurant worker who came to the city illegally 15 years ago and is hopeful for a path to U.S. citizenship.
"I could have a better job and I could travel to see my family in Mexico," Rafael told the Associated Press.

San Francisco, CA
May Day Marchers Spread Their Wings
Judith Scherr - Inter Press Service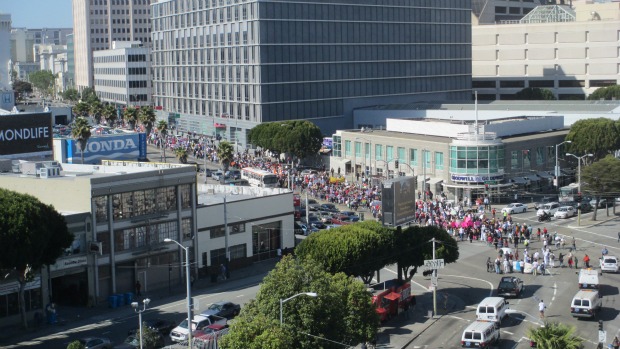 (Photo: Robert Ristelhueber)
SAN FRANCISCO, California, May 2 2013 (IPS) - More than 1,000 people marched under the brilliant San Francisco sun on May Day. Their signs, such as "Work in America/Live in America/Dream in America. Immigration reform now," their songs, chants and speeches wove together the twin themes of the day: worker justice and immigrant justice.
Alphonso Pines of the hotel and restaurant workers union Unite HERE put it this way, speaking to the crowd before the march: "We're marching for our families; we're marching to honour the sweat and the contributions of each and every working person. We're marching to honour the beauty of each and every family - queer or straight, immigrant or born here. We're marching because together we can make history.
"Together we can win immigration reform that includes all workers and all families. Together we can stop the pain of deportation."
In all, there were some 85 marches calling for worker and immigrant rights around the U.S., including a march of 700 in Oakland, California, 2,000 in Los Angeles and several thousand in New York.
Seattle-based journalist Mark Taylor Canfield told IPS that unions brought large numbers of people out to a peaceful march of several thousand in Seattle. A break-off group broke windows and damaged property. Police reacted with "large amounts of pepper spray and flash-bang grenades," he said. There were 13 arrests.
In San Francisco, Tessa Levine was getting ready to march with Mujeres Unidas. Like many in the crowd, she wore butterfly wings. The Monarch butterfly flies to Mexico then back to the U.S. every year, she said, explaining, "It's really a symbol that migration is beautiful, that migration is natural."
Still, migration is regulated by law. And at this point, no one knows exactly what the new immigration law will look like - or if one will actually make it through both houses of Congress and on to the president's desk.
A number of demonstrators told IPS they had serious questions about the bill known as the Bipartisan Framework for Comprehensive Immigration Reform scheduled for consideration by the Senate Judiciary Committee on May 9.
A primary concern with the bill is the 13 years it would take most immigrants in the U.S. without documents to become citizens. The positive aspect is that, during the waiting period, they would be able to work legally. However, during that time, they would be excluded from social services, including the right to purchase health insurance under the Affordable Care Act.
"We want a fast and just path to citizenship," said Kitzia Esteva, of the advocacy organisation Causa Justa.Just Cause, noting that immigrants' taxes pay for these services.
Emily Lee, with the Chinese Progressive Association, expressed similar concerns. Noting that one million out of the 11 million undocumented persons living in the U.S. are Asian-Pacific Islanders, she asked, "What does that mean when you're paying back taxes, and you're expected to contribute to the society, but you're not receiving the benefits?"
But even getting onto the path for citizenship under the Senate bill under discussion could be impossible for people who have worked informally as day labourers or domestic workers, since the applicant is expected to show proof of having worked in the U.S.
"These are men who are working every day," said Emiliano Bourgois-Chacon, with the San Francisco Day Labor Program and Women's Collective. But because they are undocumented, they don't have paperwork to prove they have been working, Bourgois-Chacon said.
Keeping the family together was another concern of May Day demonstrators.
The bill in the Senate would make it more difficult for families to sponsor siblings. "Family reunification has been a cornerstone of immigration in the U.S.," Lee, of the Chinese Progressive Association, said. "And to start chipping away at that…is very problematic."
Many people in the Chinese community wouldn't otherwise have been able to come to the U.S., she added.
Deportations that rip families apart are of great concern to a number of demonstrators IPS interviewed. There have been some 800 deportations from San Francisco since 2009, with the introduction of Secure Communities or "S-Comm", the programme where local police share arrest information with U.S. Immigration and Customs Enforcement, according to Estava of Causa Justa.
Across the Bay in Alameda County, the Oakland-Berkeley area, there have been 2,000 deportations since 2009.
"People are getting separated from their families every day," Estava said. "We want a stop to that immediately. We are fighting to get local police to stop the collaboration between police and ICE, and we have that same demand on the national level with immigration reform."
Deportation has also heavily impacted the Arab immigrant community, said Lara Kiswani of the Arab Resource and Organizing Center. "There's obviously racial discrimination and systemic criminalisation of Arabs and Muslims here in the United States, which leads oftentimes to deportation," she said.
Like Estava, Kiswani said the high number of deportations comes from collaboration between local and federal law enforcement. "There should be an end to S-Comm so that there's more accountability to local law enforcement and so that people aren't unjustly targeted and deported for various misdemeanors," she said.
Another problem with the current and proposed law is the E-verify programme through which an employer can verify a person's social security number. ICE can request an employer perform an E-verify audit.
Olga Miranda, president of Service Employees International Union Local 87, said a few years ago several hundred of her union janitors were targeted by an E-verify audit, fired, and "lost everything overnight".
Esteva pointed to another problem with the proposed law: putting resources into enhanced law enforcement on the border.
ICE and the border patrol have the most law enforcement money in the country, Esteva said. "Instead of putting that money into border enforcement, we could see a lot more social services and resources for the community. We think that money would not be well invested in protecting the border."
Nancy Mackowsky marched the two-mile route holding an American Federation of Teachers banner. She teaches English as a second language at San Francisco City College and said some of her students work from 6 a.m. to 6 p.m., then come to her class in the evening four days a week.
"They have goals, they have dreams and they deserve to be able to fulfill them," she said.

Seattle, WA
Seattle's May Day 'March for Worker, Immigrant Rights' peaceful
John Hopperstad - Q13Fox.com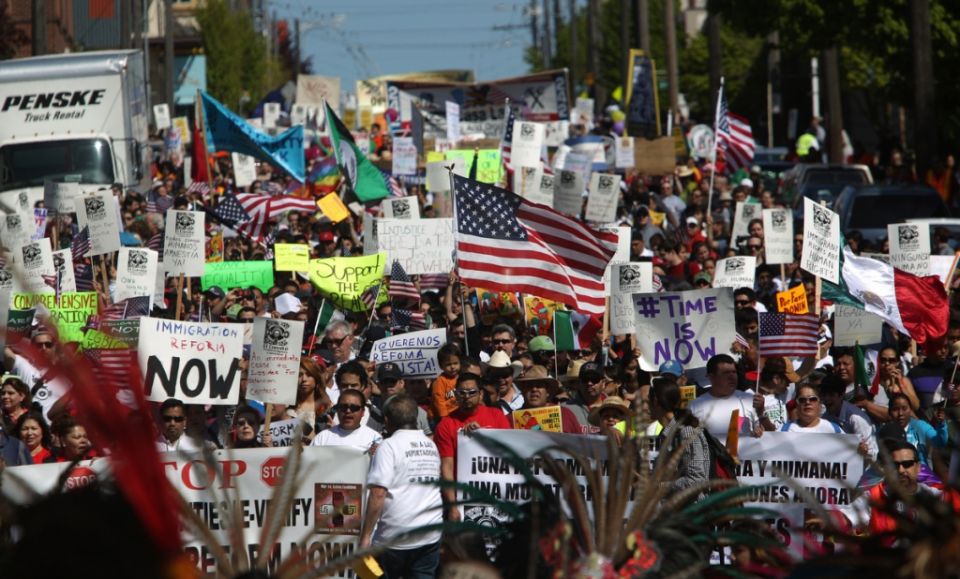 SEATTLE - Immigration was on the minds of most May Day protestors who gathered at a sunny Judkins Park.
"We're here today, to advocate immigration reform," said John Martinez.
But among the peaceful protestors, there were also are several anarchists, they're faces covered, and some worried things could get ugly.
"That's always a problem if there's some disturbance or some incident," said Martinez.
Protestors said during the march they had several monitors watching for anyone committing violence, and were ready to report it to police.
And there were a lot of police, on foot, on bike, on horse, and seemingly on every corner.
"We certainly up-staffed from last year," said Seattle Police Captain Chris Fowler. "We have quite a few out here."
Officers said they're much more prepared this year than in 2012 when anarchists did a lot of damage in the downtown corridor.
This year, word got out that anarchists may be targeting banks downtown.
That was enough for two US Bank branches on 5th Avenue to close early.
But despite some small skirmishes, the 3-mile march to the Henry Jackson federal building was free of violence, and protestors could focus on what they came to May Day for: to talk, not about violence, but about immigration.

Mountain View, CA
Close to 1,000 marched in Mountain View California on Wednesday to show support for comprehensive immigration reform. Gathering in the city's main plaza, protesters called the current state of U.S. immigration policy inhuman and unjust. Many mentioned deep concern that families are being broken up by Immigration Control Enforcement.
The immigrant rights movement has embraced May Day since 2006, when both San Jose in the South Bay and Mountain View on the San Francisco Peninsula saw huge crowds on the streets.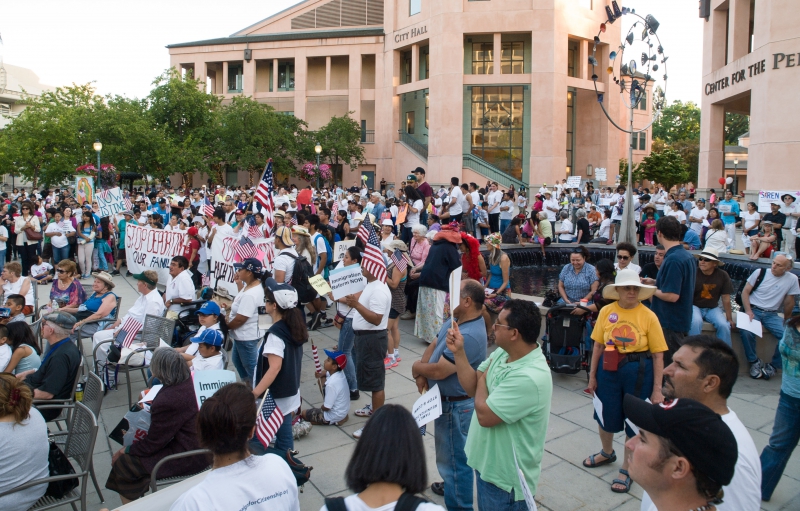 Photos: Jack Owicki and Reynita Roberts.

Fresno, CA
Immigration reform march draws 1,000 to downtown Fresno
Jacob Rayburn - The Fresno Bee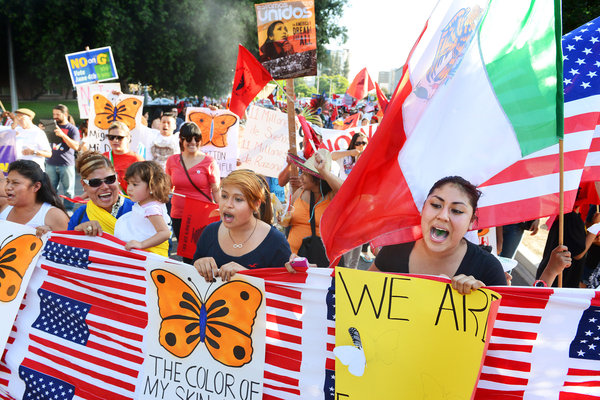 An immigration-rights march through downtown Fresno Wednesday night drew about 1,000 people calling for reform of the nation's immigration laws.
The event began with an afternoon rally on the plaza outside of the Fresno County Courthouse. Several hundred people listened as organizers and advocates, speaking in Spanish and English, urged participants to hold onto their dream of citizenship -- and for those who could to vote and make their voices heard.
"The people who vote have confidence in politicians," march coordinator Leonel Flores said. "When politicians don't support reform, people are frustrated. I brought my son to marches when he was 1 and now he's 21 years old. That's more than 20 years of Congress neglecting reform."
Speeches given before the march offered words of encouragement for people to not give up, with shouts of "Sí se puede!" -- Spanish for "Yes, we can!" Some in attendance saw the march as a way to educate people about the possibility of reform and what it could mean for the future of undocumented immigrants.
"I work closely with high school students and a lot of them don't see a point continuing their education if they are in the country illegally," said Piocio Serrano, a charter school teacher who joined the crowd in the courthouse plaza. "I want to educate them that there are options for them. I want them to know there is hope."
Some participants waved U.S. flags. A smattering of Mexican flags also were visible, along with the red and black flags of the United Farm Workers Union.
When the march began about 6 p.m., the ranks swelled with late arrivals and cheers erupted when passing cars honked in support.
In the crowd was a junior from Fresno's Edison High School, who said the march drew her for reasons other than advocating for immigration reform.
"I believe in social justice and this march sparks so many to fight for what they believe in," Jamila Rice said. "I am here for the people. I am not Mexican-American, but to see so many people with passion is beautiful."
With chants calling for Obama to listen, the crowd came to a halt on L Street in front of the United Security Bank, where the Rev. Joaquin Arriaga of Our Lady of Mount Carmel Parish in Fresno shared words of compromise.
"We are inviting people to change their minds," Arriaga said. "Those in favor of immigration reform and those who oppose won't listen to each other. Those who oppose forget we are a nation of immigrants, but the immigrants forget we are a nation of laws."

Arriaga hoped that both sides would take steps toward the middle to make progress in passing immigration reform legislation, but he urged politicians to act for the right reasons.
"The law shouldn't be written because they want immigrant votes," Arriaga said.
Organizers asked that the federal government halt deportations and workplace raids while immigration reform is being discussed. They also asked that any reform cover immigrants who are in the U.S. up until the law is signed, that immigrants not be required to learn English to apply for legal residency, and that immigrants get access to health services.
A bipartisan immigration reform bill in the U.S. Senate calls for enhanced border security, new guest-worker programs and the eventual chance for citizenship for most of the 11 million people in the U.S. who entered the country illegally or overstayed their visas.

San Bernardino, CA
MAY DAY: San Bernardino march one of many nationwide
David Olson - Press-Enterprise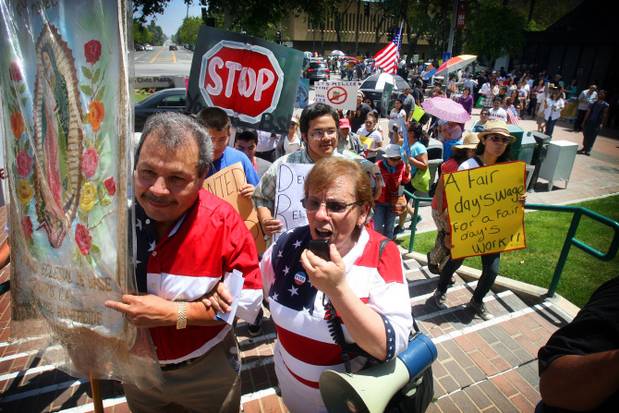 Hundreds of people marched through downtown San Bernardino on Wednesday, one of many May Day demonstrations nationwide in support of immigration reform that includes a path to citizenship for millions of undocumented immigrants.
At pauses in the walk, speakers talked of families torn apart by deportations and of immigrants living in fear that they will be next.
Sergio Gonzalez, 35, of San Bernardino, is in the country legally but said he has a dozen cousins, aunts and uncles who are not. They constantly worry that if they're pulled over by the police they'll be turned over to immigration agents, he said.
Gonzalez was one of many people at the march who criticized key components of immigration legislation that was introduced last month in the Senate. Among other shortcomings, they said, it would not allow undocumented immigrants to apply for green cards until after they spend 10 years in temporary legal status. They would then have to wait three more years to apply for citizenship.
"That's too much," Gonzalez said in Spanish. "There are many people who already have been here 10, 15, 20 years. And to wait 10 years more? That's not fair."
Gonzalez said his relatives and many others already pay sales, social-security and other taxes - but they're not eligible for social security or other benefits.
The march wended through several downtown streets, ending at San Bernardino City Hall, where the Rev. Leonard De Pasquale addressed the crowd.
De Pasquale, of St. Bernardine Roman Catholic Church in San Bernardino, later said he worries about how the Senate bill requires the attainment of stringent border-security goals before immigrants would be eligible for green cards. He also is concerned about the $2,000 in fines that immigrants would have to pay to become residents and then citizens.
Many undocumented members of his parish are poor and would have difficulty raising that amount of money, he said.
"The legislation should create a smooth path to legalization rather than put obstacles in people's paths," De Pasquale said.
As participants in the San Bernardino demonstration criticized the Senate bill as too harsh, a group holding signs above a freeway overpass in the Orange County city of Brea denounced the bill as an un-American giveaway to lawbreakers.
"This was to serve notice to Washington, D.C., that we're not buying into their subversion," Raymond Herrera, a Victorville man and president of the anti-illegal-immigration group We the People California's Crusader, said by phone after the Brea demonstration.
But Ana Antunez, 19, said she deserves to live legally in the United States - as do the parents who she said have sacrificed so much to give her a better life.
Antunez, an undocumented resident and a student at Riverside City College, arrived in the United States at age 3. She has not been back to her native Mexico.
Antunez said that, if she were to be deported, "it would be heartbreaking. I've been to school here. I graduated. I'm in college. I've never done anything bad. I'm not someone you can just throw away."

Salem, OR
Gov. John Kitzhaber signs driver cards bill at May Day rally as opponents pursue referendum
Yuxing Zheng - The Oregonian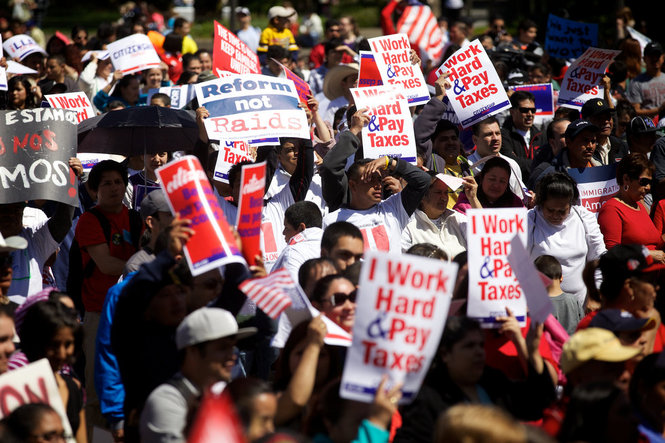 SALEM -- About 2,000 people cheered at an "Immigrant Spring" May Day rally as Gov. John Kitzhaber signed into law a bill to grant four-year driver cards to Oregon residents who cannot provide proof of legal presence.
Hours later, leaders of Oregonians for Immigration Reform said they plan to file paperwork Thursday to place a referendum challenging the law on the November 2014 ballot. If they gather enough signatures to force the referendum, it would prevent Senate Bill 833 from going into effect on Jan. 1, 2014.
"Our phones are screaming with people who are furious about this," said Cynthia Kendoll, the group's president. "We think that through this referendum, we'll be able to let the public decide if this bill is right for Oregon."
The group would need to submit 58,142 valid signatures within 90 days of the end of the legislative session to qualify for the ballot, said Tony Green, spokesman for the Oregon secretary of state's office. Legislative leaders plan to finish the session by the end of June or early July.
Supporters of the legislation vowed Wednesday afternoon to fight the referendum if it qualifies.
"If they do that, we'll launch a campaign to oppose it and go to every corner of the state and educate people, just like we did to convince legislators that this was a great thing for Oregon and Oregon safety," said Ramon Ramirez, president of Pineros y Campesinos Unidos del Noroeste, a union that represents 6,000 farmworkers in Marion and Polk counties.
PCUN sponsored the May Day rally along with about a dozen other Latino and labor groups.
The bill grants driving privileges to applicants who have resided in Oregon for at least a year. They must also provide proof of identity and date of birth, such as an unexpired valid passport from the person's country of citizenship or an unexpired consular identification document.
The card is distinguished from a license, which requires proof of U.S. citizenship or lawful presence in the country under a 2008 state law.
Latino and other cultural groups also won a significant victory April 2, when Kitzhaber signed a bill to grant in-state tuition to undocumented Oregon high school graduates who meet certain criteria.
The driver cards legislation stemmed from a work group convened by Kitzhaber about two years ago. The 14-member group included business, faith, law enforcement and Latino representatives.
"It is clear from the diverse coalition that came together to pass Senate Bill 833 that the bill has broad support among Oregonians," said Tim Raphael, Kitzhaber's spokesman. "We're confident that the coalition would fight tooth and nail to support the bill."
Earlier Wednesday, Kitzhaber signed the bill on the Capitol steps under a sunny spring sky.
"This bill is part of a larger vision where all Oregonians deserve and get their shot at the American dream," said Kitzhaber, who regularly paused for a Spanish translator. "We are celebrating the promise of a better future for each and every Oregonian."
The lively rally took on a celebratory tone as participants applauded the bill signing and the possibility of comprehensive federal immigration reform, which could include a pathway to citizenship for the estimated 11 million undocumented immigrants in the country.
Chants in Spanish of "Obama, listen, we're still in the fight," emanated from a noon march that encircled the Capitol and the mall.
The rally and march attracted first-time participants like Portland resident Silviano Rico, who held a sign that read "We are not illegals. We are human beings."
Rico said he came to the United States from Mexico 22 years ago, works as a cook and pays taxes. He and his wife are undocumented, but their daughters, 7 and 9, are citizens because they were born in America. All four attended Wednesday's rally, and their older daughter held up a sign that read "Keep our families together."
"Our kids were born here," he said. "They don't want their parents taken away."
Several unions also participated in the rally, including the Pacific Northwest Regional Council of Carpenters, whose members held up a large sign that said "An injury to one is an injury to all."
"We're here to support everybody having the same rights in the state of Oregon," said Tyson Stuber, a Eugene resident and member of the union's Local 156. "We're all brothers and sisters in the same state."

Please join our National Immigrant Solidarity Network daily news litserv (4-5 e-mails per day) send e-mail to: isn-subscribe@lists.riseup.net or visit: https://lists.riseup.net/www/info/isn
Please consider making a donation to the important work of National Immigrant Solidarity Network!

Send check pay to:
National Immigrant Solidarity Network/AFGJ

National Immigrant Solidarity Network
P.O. Box 751
South Pasadena, CA 91031-0751
(All donations are tax deductible)


Past May Day Actions
March 25th 2006 Los Angeles Mobilization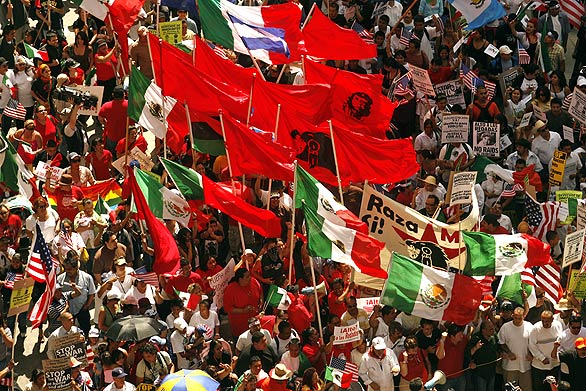 Los Angeles, May Day 2010
Back to National Immigrant Solidarity Network Home Page