Lee Siu Hin: Journey to My Home 2009--Building Bi-national China-US Solidarity and Understanding
Part One
(Friday June 12 - Hong Kong, China)
I left Los Angeles early this week for my 5 weeks trip to China. This is my bi-national China-US solidarity building trip, I will be meeting with different people from across the county, as well as my family visit.
Being over 30 years immigrant rights, labor rights, peace & social justice activists and lived in U.S. for 20years I have many good, bad, ugly experiences and disappointments. I believe U.S. activism at its cross road. Leaving U.S. always helps me quickly think outside of the box—to find solutions and new directions. Due to my limited time, I write whatever it cross my mind and hope you won't mind some of my grammar or spelling errors.
***
After 19 hours of flight from Los Angeles (short stopover to transfer flight at Tokyo, Japan) I'd arrived to Hong Kong, China on the evening of Wednesday June 10th.
The first thing I arrived to Hong Kong airport—was send to secondary medical check point, and check for possible A H1V1 (swine flu) virus, because I'd declared at my visitor health questions form (mandatory for every passenger) I'd nose running last week—while I was at Pittsburgh, PA attending and spoke at a labor conference, my host family had a cat and I have cat allergy. Non-the-less the health official at Hong Kong airport doesn't want to take chance and want to make sure if I am healthy and OK without carrying any virus (or they'll mandatory take me away to the hospital for further check up)—of course, I have no problem so they just wrote down my contact information and let me leave the airport.
This is an interesting experience since I never see any efficiency at U.S. health care system, beside I never had medical insurance so I cannot afford to go to hospital.
While U.S. government and Department of Homeland Security (DHS) had claimed they spend billions of dollars prepare for any chemical and biological attacks; yet, I didn't see any serious efforts from the U.S. government on combating the spread of the virus nor major medical service at the community. U.S. had already replaced Mexico and become the center of A H1V1 centers-- spreading virus to the global—Already 13,000+ infected and over two dozen death (includes over ten death at New York City) in the U.S. and many new virus cases around the globe were spread thru airline passengers out from U.S.—yet, the government choose do nothing but to cover-up/ denying mode while ignoring to find solution for the global health crisis when World Heath Organization (W.H.O.) had just declared it's "pandemic' level.
It shows the clear and present failure of the U.S. heath care system—while U.S. has one of the most advanced health care system (more advanced then Hong Kong in technology level), yet tens of millions of Americans (includes me) are without insurance, plus many with insurance are not getting medical care because their insurance companies deny their claim (More than 31 percent of every dollar spent on health care in the U.S. goes to paperwork, overhead, CEO salaries for heath insurance companies, according to Rhonda Hackett).
Many won't go to see doctor until late stage of the illness (at the emergency room) when common medical sense teach us prevention is better then later stage.
Hong Kong has government-run healthcare system and many other good social service programs, yet they don't have running into major financial deficit or even government lock-down, why? U.S. spend more money on military then any other countries on the World—our tax money supposedly for heath care, education and social service has taken away from us to build hyper-billion dollars weapon programs to invade and destroy other countries, in addition, another hyper-billion dollars for corporate tax cuts and bailouts their capitalist failures.
One more issue, being an immigrant in the U.S. facing daily xenophobia institutional-racism so we could deeply understand U.S. runs many things based on fear against *not* for welfare of the people. One good example; the difference between immigration forms (every foreign visitors need to fill when they enter the country) between when I arriving to Hong Kong and to the U.S.: U.S. visitor form it asks very strange and even absurd questions no other countries have, such as:
Answer Yes/No: "Do you seek to enter the United States to engage in export control violations, subversive or terrorist activities, or any other unlawful purpose? Are you a member or representative of a terrorist organization as currently designated by the U.S. Secretary of State? Have you ever participated in persecutions directed by the Nazi government of Germany; or have you ever participated in genocide?"
Answer Yes/No: "Have you ever withheld custody of a U.S. citizen child outside the United States from a person granted legal custody by a U.S. court, voted in the United States in violation of any law or regulation, or renounced U.S. citizenship for the purpose of avoiding taxation? "
=O
It's funny that U.S. only focus on anti-terrorism, criminals then the human needs.
I trust every U.S. progressive activists know and agrees these facts--but not until you're travel to foreign countries and do some comparisons, then you can feel in personal level the difference of government policies between "us" and "them."
***
Due to the A N1H1 virus scare, I'd decided to follow the suggestions from the health officials to cancel all appointments at Hong Kong to stay indoor for 4 days. Tomorrow, Saturday (6/13) I'll be leaving Hong Kong to go to Zhuhai (60 km water distance or 1.5 hours speed ferry) for meetings with my activism contacts.
More updates and my thought from trip will be follows….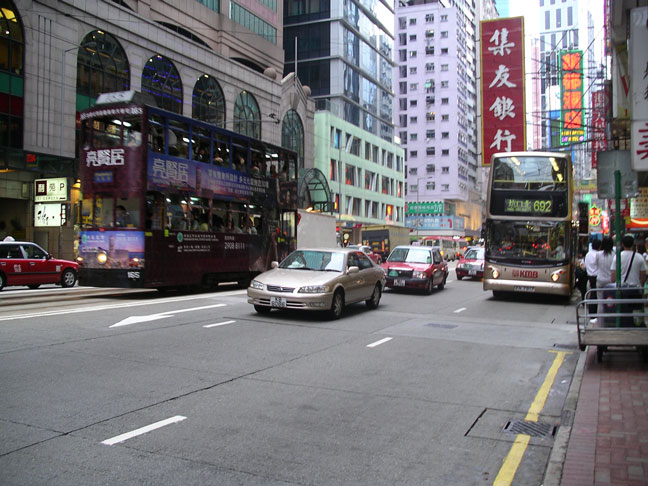 (ramdon shot, my first street view of Hong Kong, Wanchai district)
Reports from my past trips:

Journey to My Home: June - July 2008
Lee Siu Hin
National Coordinator