National Immigrant Solidarity Network
4th National Grassroots Immigrant Strategy Conference
& Immigrant Rights Film Festival
April 10-12, 2009 UIC Student Center West
828 South Wolcott, Chicago, IL
http://www.ImmigrantSolidarity.org
Conference Hotline: (773)942-2268
April 11: Immigrant Community Town Hall and Cultural Festival
Time: Saturday April 11th 7:00 PM - 9:00 PM
Location: UIC Student Center West 828 South Wolcott, Chicago, IL
Ticket: $5.00/person (all income will be benefit National Immigrant Solidarity Network) good for both townhall meeting and afterpaty!
Keynote Speaker
Kim Bobo - Executive Director Interfaith Worker Justice

Kim founded Interfaith Worker Justice in 1996 and has since provided leadership and vision for building the organization and the movement for worker justice.

Prior to Interfaith Worker Justice, Kim was a trainer for the Midwest Academy, and Director of Organizing for Bread for the World. She writes a column for Religion Dispatches, a new online magazine. She is co-author of Organizing for Social Change, the best-selling organizing manual in the country, and author of Lives Matter: A Handbook for Christian Organizing. Her new book, Wage Theft in America: Why Millions of Working Americans Are Not Getting Paid - And What We Can Do About It, is the first and only book to document the wage theft crisis in the nation and propose practical solutions for addressing it.

Kim is the Choir Director at Good News Community Church, a multi-cultural congregation in the Rogers Park neighborhood of Chicago. Kim and her husband, Stephen Coats, have twin teenage sons, Eric and Benjamin.
Town Hall Cultural Festival Performers
BAGWIS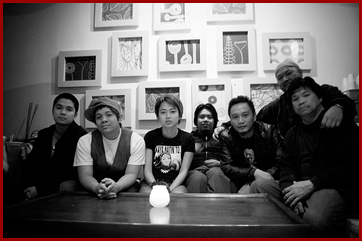 A collective of filipino cultural workers, activists, and musicians who began writing and performing original music in 1998 as a contribution to the first annual Kultural Night of Resistance celebrating the centennial year of Philippine Independance. Since then, Bagwis has composed several dozen pro-people songs and participates in community building for our youth, women, artists and migrante workers. BAGWIS music believes in THE POWER OF THE PEOPLE, in seeking genuine freedom and democracy in the Philippines and in upholding human rights. In creating & performing this kind of music, BAGWIS hopes that it is contributing its humble share and effort in the overall struggle for justice and social change. Web: http://www.bagwiscollective.org
Tonathiu De La Cruz : Social Song

Luis Badillo: Latin American Protest Song

And Also..
Please Stay for Immigrant Conference Benefit After Party
9:00 PM - 10:30 PM
Click Here for More Information