May Day 2016 - National Mobilization for Immigrant Workers Rights!
http://www.ImmigrantSolidarity.org/MayDay2016/
Report Back from Across the Country
Lee Siu Hin - National Immigrant Solidarity Network
Los Angeles, CA
Sunny Southern California May Day 2016, about thousand people organized by LA May Day Coalition participated in a multi-ethnic unity march, include Latinos, African American, Koreans and Chinese-American union members, as well as white activists, to join the march, demand immigrant rights, vote, union and NO to the Trump. Speakers includes: SEIU, Black Life Matters, KIWA, CARCEN, CHIRLA and so on. It was a powerful day!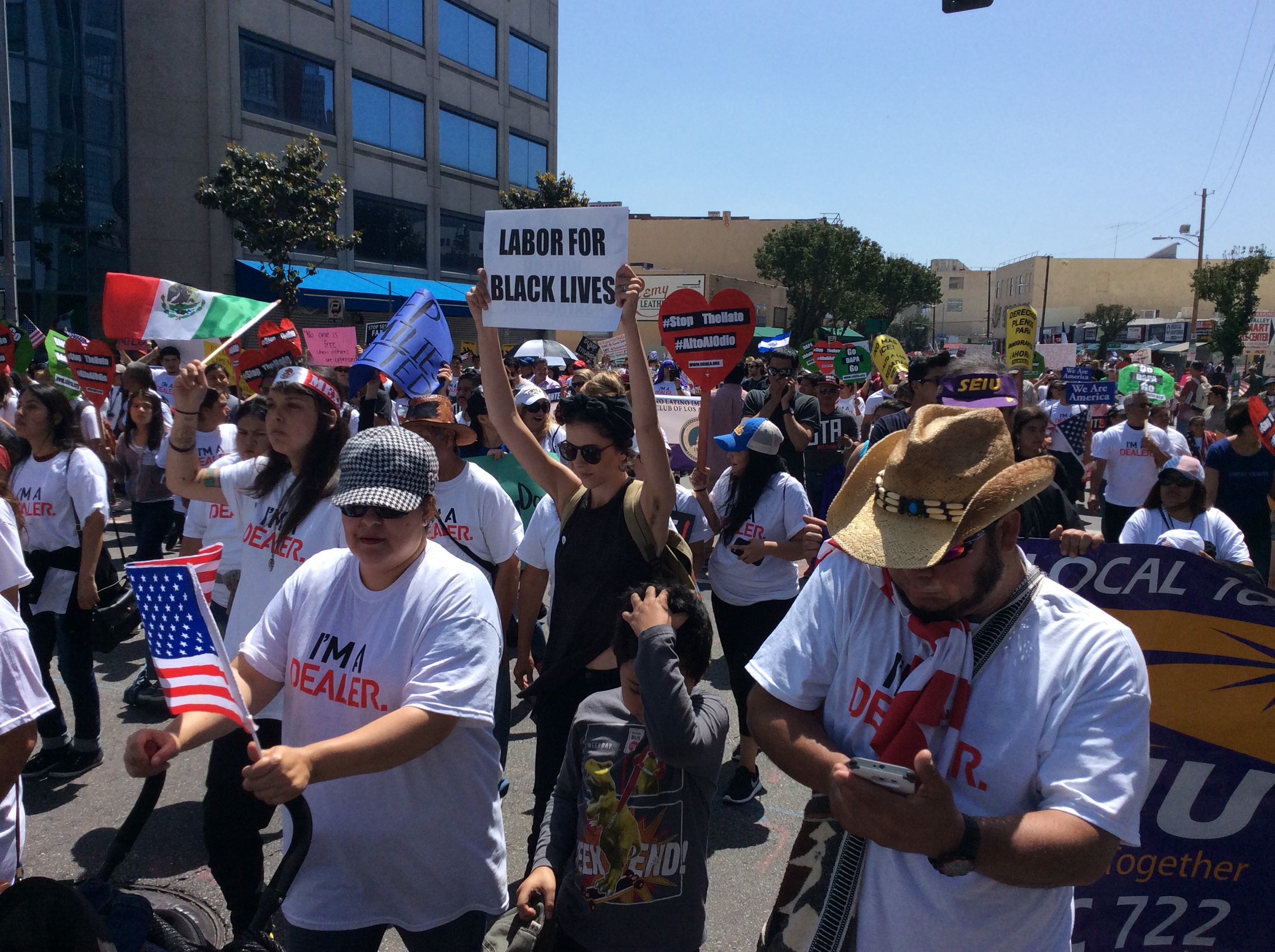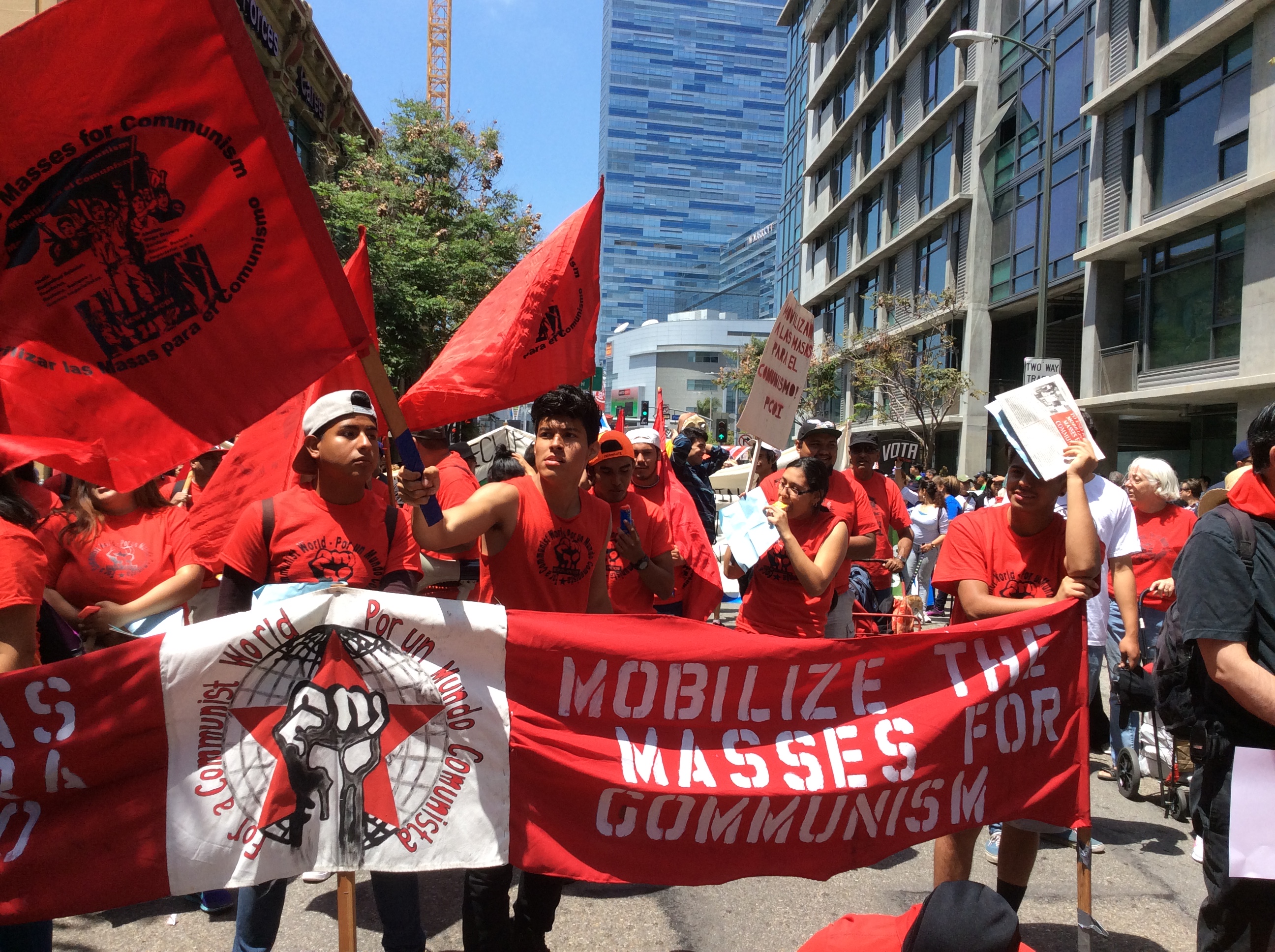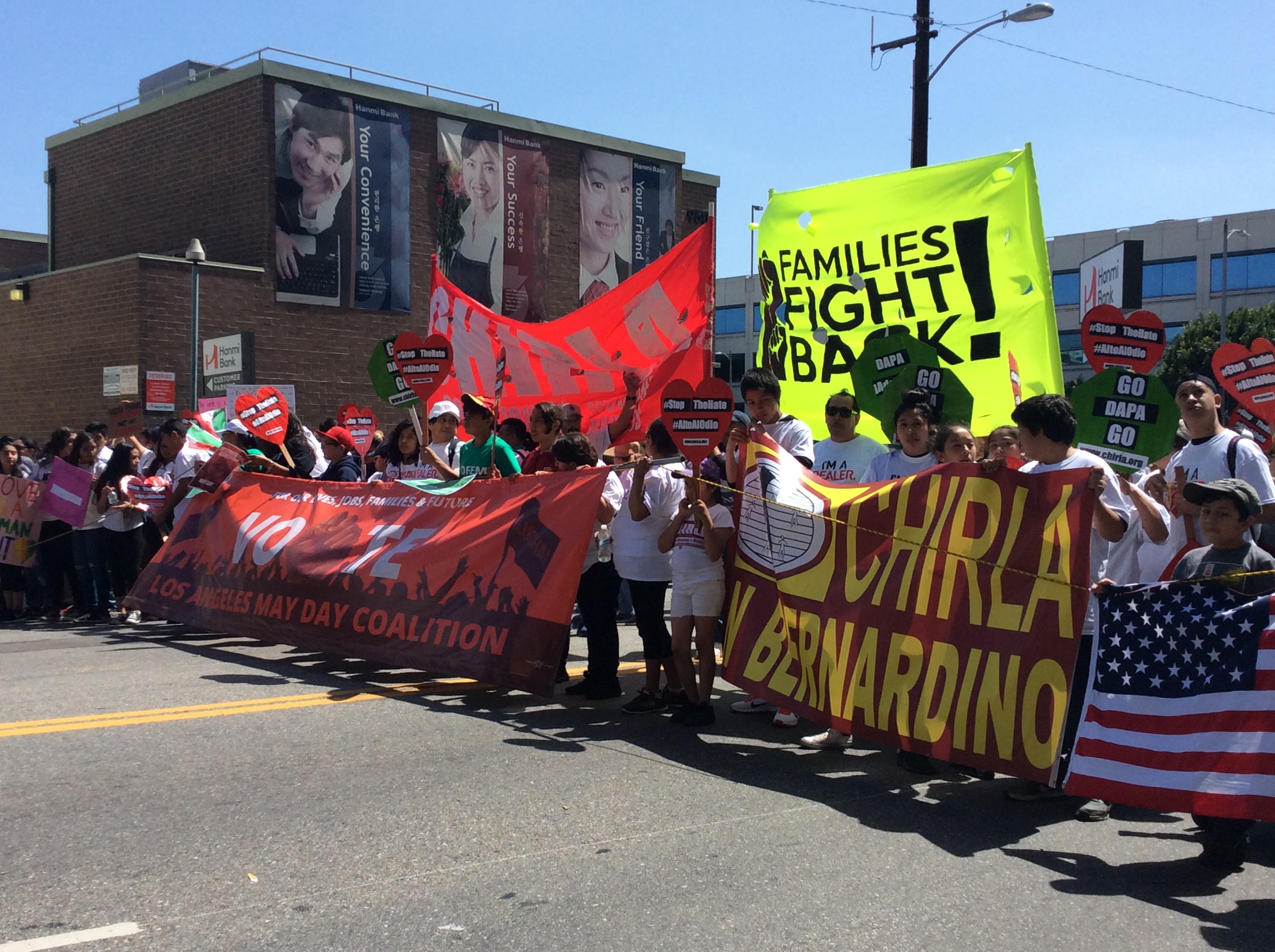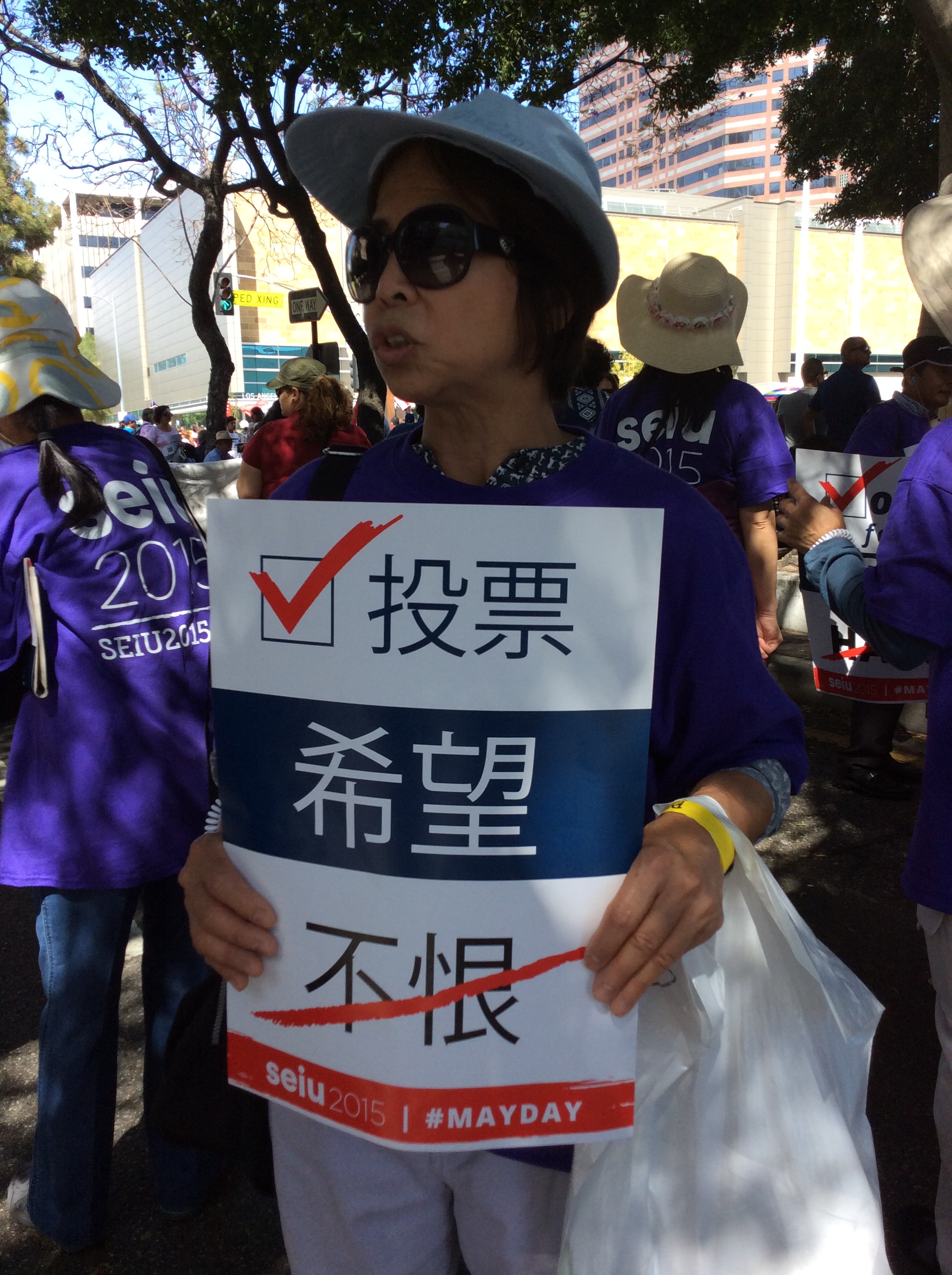 Chicago, IL
March to Trump Tower!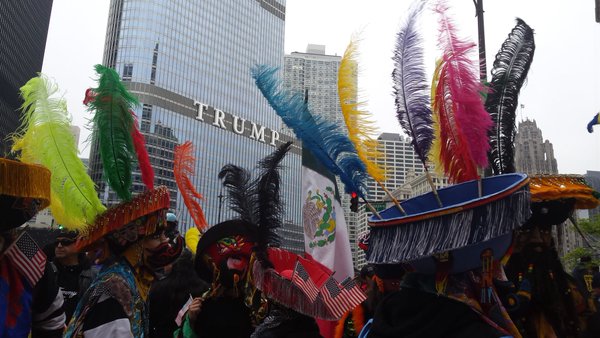 Seattle, WA
Arrests and Injuries in Trade Union Demonstrations in US
Washington, May 2 (Prensa Latina) A dozen arrests and five policemen wounded was the toll of US demonstrations during the International Workers'' Day, especially in the city of Seattle, confirmed today the authorities.

Seattle, considered a bastion of the 'antistablishment' movement in this country, was the scenario of major demands of the labor movement for the rights of workers and immigrants.

When the march increased its character the police tried to disband but many demonstrators replied with stones and even biting, reaching some throwing Molotov cocktails that did not explode, but wounded agents.

Mayor Ed Murray lamented the violent incidents considered absurd, while riot police waited for the traditional event, which last year left 16 arrests and criticism for excessive use of repression.

100 rally for May Day on steps of Salt Lake City and County Building

(Theresa Nielson - Fight Back!) Salt Lake City, UT - On May 1,100 people gathered at the Salt Lake City and County Building to celebrate, table and rally for International Workers Day. The Freedom Road Socialist Organization (FRSO) hosted the event, joined by Students for a Democratic Society, Utah Against Police Brutality, Utah Anti-war Committee, Workers World Party, and Socialist Alternative.

Speeches by local activists and shop floor union leaders focused on labor and immigration rights. Joey Brandin performed songs such as There is Power in a Union and Solidarity Forever. "

As a Mexican immigrant, I can tell you that it is almost impossible to find a job in the state of Utah if you're undocumented. It means that many of these people will find themselves homeless, exploited under the table, or resorting to unconventional means of survival. In Utah, laws like SB 81 are denying undocumented queer people a chance at an affordable post-secondary education and a better future," said Adrian Romero from Stand for Queer Lives.

Connor Richards from Students for a Democratic Society (SDS), spoke about student solidarity with workers around the world. Then Richards shifted to immigrant rights at home saying, "We need you to support the SDS campaign Education for All, and the cutting of lines 36 through 42 of Senate Bill 81 that prevents state-funded scholarships from being granted to undocumented people."

Erica Cole, union steward of the American Postal Workers Union, spoke about racist discrimination in employment, "It is ridiculous that if one of my daughters says she is white on a job application the outcome will be vastly different than if she says she is Black."

Samantha Stott from Utah Against Police Brutality and Cop Watch explained to the crowd, "Speaking not only of the working class, but also those who are not working, those who are dealing with addiction and mental illness who are on the streets. They don't have the help that they need."

Carly Haldeman of the Freedom Road Socialist Organization was the final speaker, "I'm calling out to the working class to stand against the fraudulent system we call capitalism. We have to do the hard work! We have to organize!"

Ian Decker, also a member of the Freedom Road Socialist Organization and emcee for the rally, thanked the people who attended the event, and invited them to a Marxism-Leninism Day School on Saturday, July 9.

Joey Brandin then sang the Internationale in solidarity with the workers and oppressed peoples of the world.

Militant march on May Day in Boyle Heights
Demands Legalization for all, dump Trump, stop police killings of Chicano youth

(Fight Back!) Los Angeles, CA - A militant march and rally was held on International Workers Day, May 1 that brought out the Boyle Heights community by the hundreds. Raising the demands of Legalization for all, dump Trump, and stop police killings of Chicanos, the protest was organized by Centro Community Service Organization (Centro CSO).

The march was led by people holding banners reading "Legalization for all." Two large red flags also led the march. Waving and yelling at the top of their lungs, Garfield High School students carried the two flags, one of Aztlán and the other with the slogan "Liberation not deportation."

As the militant crowd lined up to march, they were fired up and began chanting, "Chicano power," "Aqui estamos y no nos vamos, y si nos echán, regresamos!" (We are here! And we're not leaving! And if they deport us, we'll be right back!) and "Dump Trump!"

Leading chants on the back of a pickup truck, Sol Márquez kicked off the march by asking the crowd, "Who's ready to march to the police station and demand justice?" The march started on Soto and Chavez in the heart of Boyle Heights and was greeted by many cheers and waves from the public.

Marchers stopped for a short rally at the LAPD Hollenbeck police station to denounce police killings of Chicano youth.Three families in Boyle Heights and East Los Angeles have fallen victim to police killings in 2016. They all joined the march. The three Chicanos murdered were Edwin Rodriguez killed by LA County sheriffs on Feb. 14; Jose Mendez, killed by LAPD-Hollenbeck Feb. 6; and Arturo Valdez killed by LAPD-Hollenbeck April 10.

In front of LAPD station Jhony Mendez shouted into the microphone, "My little brother Jose Mendez was only 16 years old when LAPD shot and killed him. And to this day LAPD has never shown us their faces, because they know they are in the wrong."

Estela Rodriguez, shouted and pointed to LAPD, "My 24-year-old son was shot 17 times, all in the back or to the back of his head. It's time we bring Edwin Rodriguez's case to justice."

The spirited march ended with a high energy rally at the historic Mariachi Plaza. Blanca Valdez, long time education activist, talked about her son Arturo being shot in the head by the LAPD.

Isabel Ocampo of Centro CSO talked about the militant spirit of the undocumented youth and the fight for deferred action for all. "It is time undocumented people come out of the shadows and join the fight for legalization," said Ocampo

Long time Chicano leader Carlos Montes spoke to the crowd, "Self-determination for all Chicanos, political and economic control for our people. Are you down with me? We can keep fighting years for reforms, but real change will come from revolution!" The crowd overwhelmingly agreed by chanting, "Viva la revolucion!" (Long live revolution)"

MECHA de Roosevelt High School and the undocumented students of SURGE, of California State University, Los Angeles (CSULA) urged support for the fight for public education and immigrant rights. Leonardo Vilchis of Union de Vecinos also talked about the fight against evictions and raising rents!

Participants in the event included students and families of Boyle Heights and ELA, members of Centro CSO, Freedom Road Socialist Organization (FRSO), Union de Vecinos, United Electrical, Radio and Machine Workers of America (UE), CSULA SURGE, East Los Angeles College M.E.Ch.A, Roosevelt High School M.E.Ch.A, Garfield High School M.E.Ch.A, GABRIELA Los Angeles, Anakbayan Los Angeles, The Farabundo Martí National Liberation Front (FMLN) of Los Angeles, Assoc. of Ex Braceros, local rank and file Teamsters from UPS, the MORENA party of Mexico, , Human Rights Alliance for Child Refugees, Serve the People, and two different chapters of the Brown Berets.


Sol Márquez concluded the rally stating, "We thank all of you who were present today demanding justice for all Chicanos killed by LAPD and LA sheriffs. And we thank our Black brothers and sisters who have fought back against their own national oppression at the hands of the state – and their movement is only growing. We must unite since our interests are the same: Liberation now, freedom now! And let us also never forget that women hold up half the sky!"

Link the article: http://www.immigrantsolidarity.org/cgi-bin/datacgi/database.cgi?file=Issues&report=SingleArticle&ArticleID=1728
---
May Day 2016: Points of Unity
We are calling A national day of multi-ethnic unity with youth, labor, peace and justice communities in solidarity with immigrant workers and building new immigrant rights & civil rights movement!

Wear White T-Shirt, organize local actions to support immigrant worker rights!
1. No to anti-immigrant legislation, and the criminalization of the immigrant communities.
2. No to militarization of the border.
3. No to the immigrant detention and deportation.
4. No to the guest worker program.
5. No to employer sanction and "no match" letters.
6. Yes to a path to legalization without condition for undocumented immigrants NOW.
7. Yes to speedy family reunification.
8. Yes to civil rights and humane immigration law.
9. Yes to labor rights and living wages for all workers.
10. Yes to the education and LGBTQ immigrant legislation.
We encourages everyone to actively linking our issues with different struggles: wars in Africa, the Americas, Asia, Iraq, Afghanistan, Palestine & Korea with sweatshops exploitation in Asia as well as in Los Angeles, New York; international arm sales and WTO, FTAA, NAFTA & CAFTA with AIDS, hunger, child labors and child solider; as well as multinational corporations and economic exploitation with racism and poverty at home—in order we can win the struggle together at this May Day 2016!
Please join our National Immigrant Solidarity Network daily news litserv (4-5 e-mails per day) send e-mail to: isn-subscribe@lists.riseup.net or visit: https://lists.riseup.net/www/info/isn
Please consider making a donation to the important work of National Immigrant Solidarity Network!

Send check pay to:
National Immigrant Solidarity Network/AFGJ

National Immigrant Solidarity Network
P.O. Box 751
South Pasadena, CA 91031-0751
(All donations are tax deductible)


Past May Day Actions
May Day 2013 Reports from Across the Country (PDF Document)
March 25th 2006 Los Angeles Mobilization
Back to National Immigrant Solidarity Network Home Page