May Day 2010 - National Mobilization for Immigrant Workers Rights!
May Day 2010 Reports from Across the Country
http://www.ImmigrantSolidarity.org/MayDay2010/

Please Read: May Day 2010 Reports from Across the Country
Downlaod your May Day 2010 immigrant activism videos our Activist Video http://www.ActivistVideo.org
May Day 2010:We Made Another History!

Hundreds of Thousands Marched Across The U.S.
Against Racist AZ SB 1070 and Demands for Immigrant Workers Rights!
Please Read: May Day 2010 Reports from Across the Country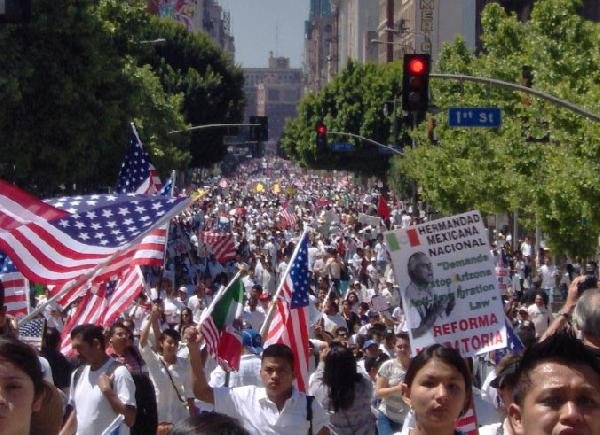 Los Angeles, May Day 2010
May Day 2010, hundreds of thousands of immigrants, activists, students and workers across the country marched at over hundred cities/communities to celebrate May Day 2010 and send unmistakable messages against Racist AZ SB 1070 and demands for immigrant workers rights! with TRUE immigration reform that will path of residency/citizenships for 12+ millions undocumented immigrants in this country.
Immigrant rights is one of the most important struggles in the U.S. right now. With the recent passage of Arizona's anti-immigrant SB 1070 bill, many immigrants and activists are comparing this to the rebirth of Jim Crow and racial profiling. We have also seen an increase in the militarization of local police forces and of our borders in another racist effort to divide our country.
While U.S. corporate media downplaying the importance and the size of the May Day 2010 mobilizations (as usual, we're also getting many racist hate calls/e-mails threaten us), our movement cannot be silent and stop!
 ==========================================================================================================
National Report (Corporate)
Tens Of Thousands Protest Arizona Immigration Law Across America, Demand National Reform

CHICAGO (AP) -- The Arizona law's supporters say it's necessary because of the federal government's failure to secure the border, but critics contend it encourages racial profiling and is unconstitutional.

"It's racist," said Donna Sanchez, a 22-year-old U.S. citizen living in Chicago whose parents illegally crossed the Mexican border. "I have papers, but I want to help those who don't."

Organizers estimated about 20,000 gathered at a park on Chicago's West Side and marched, but police said about 8,000 turned out.

The event resembled something between a family festival – food vendors strolled through with pushcarts – and a political demonstration with protesters chanting "Si se puede," Spanish for "Yes we can." A group of undocumented students stood on a stage at the Chicago park and "came out" regarding their immigration status.

Juan Baca was among those students. Baca, 19, whose parents brought him from Mexico illegally when he was 4 months old, said he has had to drop out of college and work several times already because he can't qualify for financial aid.

"It's been a struggle," he said. "I missed the mark by four months."

Obama once promised to tackle immigration reform in his first 100 days, but has pushed back that timetable several times. He said this week that Congress may lack the "appetite" to take on immigration after going through a tough legislative year. However, Obama and Congress could address related issues, like boosting personnel and resources for border security, in spending bills this year.

At the White House, U.S. Rep. Luis Gutierrez, an Illinois Democrat, was among 35 people arrested in a demonstration of civil disobedience against the Arizona law.

In Dallas, police estimated at least 20,000 attended a Saturday rally. About a dozen people there carried signs depicting the Arizona governor as a Nazi and Maricopa County Sheriff Joe Arpaio, known for his tough illegal immigration stance, as a Klansman. Organizers were asking sign holders to discard those placards.

Juan Hernandez, the Hispanic outreach coordinator for Arizona Sen. John McCain's unsuccessful presidential run, attended the Dallas rally. He said Arizona was once considered by those south of the border to be a model state with particularly close ties to Mexico.

"It went beyond what most states do," he said. "Now they are a state that goes beyond what the Constitution says you should do."

Juan Haro, 80, was born and raised in Denver, where about 3,000 people rallied. He said he thinks Arizona's new law targets Mexicans.

"This country doesn't seem to be anti-immigrant," said Haro, whose family is originally from Mexico. "It seems to be anti-Mexican."

In downtown Miami, several hundred flag-waving demonstrators – many with Cuban and Honduran flags, but mostly American ones – called for reforms.

Elsewhere, an estimated 7,000 protesters rallied in Houston, about 5,000 gathered at the Georgia state Capitol in Atlanta and at least 5,000 marched in Milwaukee. About 3,000 attended a Boston-area march.

And in Ann Arbor, Mich., more than 500 people held a mock graduation ceremony for undocumented immigrant students near the site of Obama's University of Michigan commencement speech.

In Arizona, police in Tucson said an immigration rights rally there drew at least 5,000 people. Several thousand people gathered in Phoenix for a demonstration Saturday evening.

A smattering of counterprotesters showed up at rallies. In Tucson, a few dozen people showed up in support of the new law and Brewer. A barricade separated about two dozen counterprotesters from a pro-immigrant rights rally in San Francisco.

The counterprotesters there carried signs that read, "We Support Arizona" and "We Need More Ice At This Fiesta," an apparent reference to the federal Immigration and Customs Enforcement agency.

May 1 – International Workers Day – is a traditional date for political demonstrations. Immigration advocates latched onto that tradition in 2006, when more than 1 million people across the country – half a million alone in Chicago – protested federal legislation that would have made being an illegal immigrant a felony. That legislation ultimately failed.

Associated Press writers Samantha Abernethy in Denver, Christine Armario in Miami, Kate Brumback in Atlanta, Mark Carlson in Phoenix, Russell Contreras in Chelsea, Mass., Kathleen Miller in Washington, Danny Robbins in Dallas, Ula Ilnytzky in New York, Dinesh Ramde in Milwaukee, Elliot Spagat in Los Angeles and Sudhin Thanawala in San Francisco contributed to this report.
==========================================================================================================
Los Angeles, CA
Los Angeles Marches Against Racist Arizona Law (PHOTOS)
by Manuel Alderete Saturday, May. 01, 2010 at 6:29 PM at LA.Indymedia.org
info@protestarizona.com
http://la.indymedia.org/news/2010/05/237924.php
Over 100,000 march to protest racist Arizona "immigration" law; diverse crowd shows broad support against law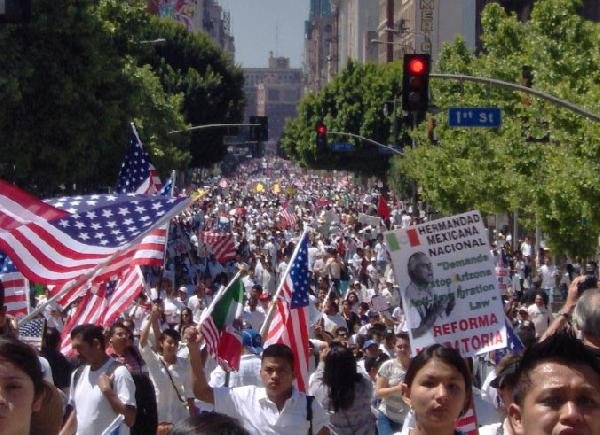 LOS ANGELES - May 1, 2010
The air was electrified by a presence not felt since the Gran Marcha of 2006. At least 100,000 people marched through Downtown in solidarity with Arizona's victims of a new law that legalizes racial profiling. It is a law that has been denounced by President Obama, DHS Head Janet Nopalitano, the Mayor of Phoenix, the Sheriff of Pima County (Arizona), and even some Republicans who see it as draconian legislation.
Many of the protest signs carried bold statements calling the Arizona law "racist" and "Nazi"-like. There was a sense of urgency in their voices, demanding to "Boycott Arizona" and overturn Arizona's SB 1070 law on the grounds that it was racially discriminatory and unconstitutional.
Unlike other marches where several other "niche issues" are brought into the march, this May Day march was focused like a laser: Arizona's new state law is a modern-day version of legalized White Supremacy, smacking of the Nuremberg Laws in Nazi Germany and Apartheid "Pass Laws" in South Africa.
As usual, the march began at Olympic and Broadway and continued north about a dozen blocks, ending near City Hall. The crowd surged with optimism as music played and ralliers chanted to Boycott Arizona and pressure President Obama to take swift action against Arizona's legalized Apartheid.
It should also be mentioned that Los Angeles Police Department had a very light footprint at the march, with only a few officers monitoring from the sidelines. And just as well: the march was peaceful, upbeat, and a proud statement of civic resistance to "legal" fascism.
AUTHOR'S NOTE: I was pleasantly surprised to see the diversity of protesters in the crowd. There was a noticeable amount of White, Chinese, and African-American protesters who all felt that they also had a reason to stand up against what SNL's Seth Myers labeled as "dry fascism" on national TV.
This is a reminder to us all that there are non-racist Whites out there who are willing to speak out against White Supremacy. They see that this is a Human Rights issue (the humanity of Mexican and "Central American" people is being totally violated) and the human part of them also feels violated by Arizona's law.
Walking to the march, I happened to get flagged down by a European-descent couple vacationing from Australia. They asked me to explain the march and the issues. We had an excellent conversation about the ongoing legacy of European colonialism and how that applied to "wild west" Arizona. Again, I was reminded that truth and logic will prevail in this struggle. But we also have to summon the courage to demand that our rights be recognized. Those of us Mexicans and "Central Americans" are NOT immigrants to this continent. We are Indigenous (mixed and full-blood) people of this land. Our blood is native to this soil, and has been spilled over and over on it, paying for this land many times over. We absolutely cannot remain dehumanized as we have been during the last 500 years since Europeans invaded and colonized our continent. This is OUR time for CHANGE (to borrow a phrase).
Below are some of the most interesting protest signs I saw.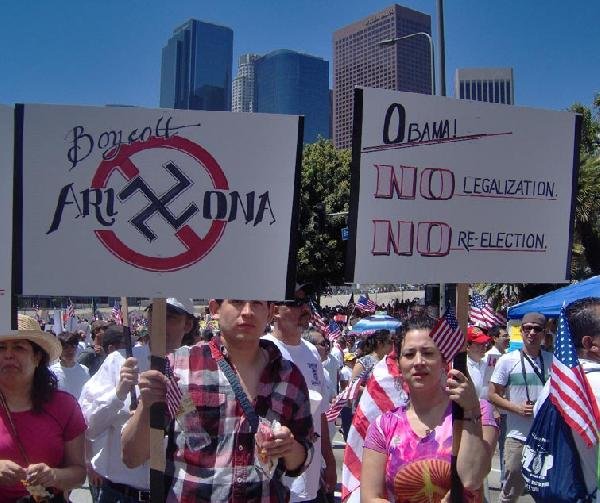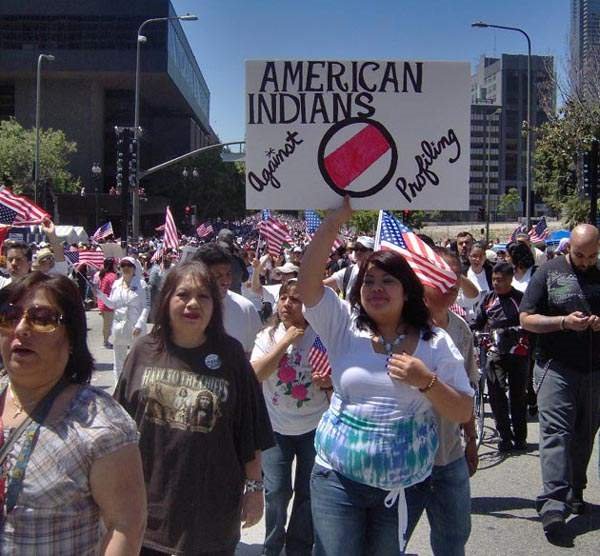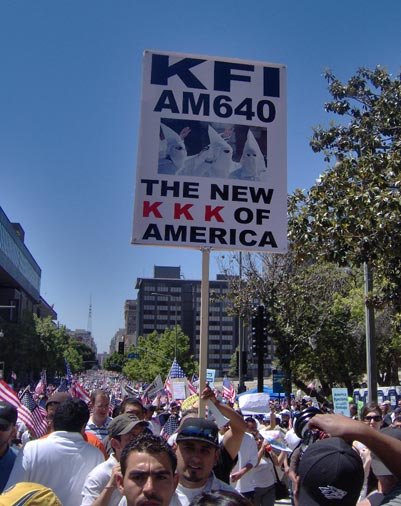 ==========================================================================================================
San Francisco, CA
Thousands Of Immigrant Rights Protesters Rally In Civic Center
by Z
Saturday May 1st, 2010 at IMC IndyBay.org
Around 1:45 thousands of immigrant rights protesters poured into Civic Center plaza.

Between 12 and 15 antimmigrant racists were waiting in front of city hall. Despite the vast difference in numbers, The local Fox news affiliate (ch2) can be seen in 5th photo filming sole nonwhite person in racist crowd.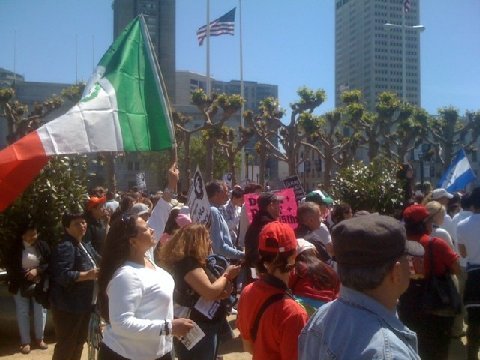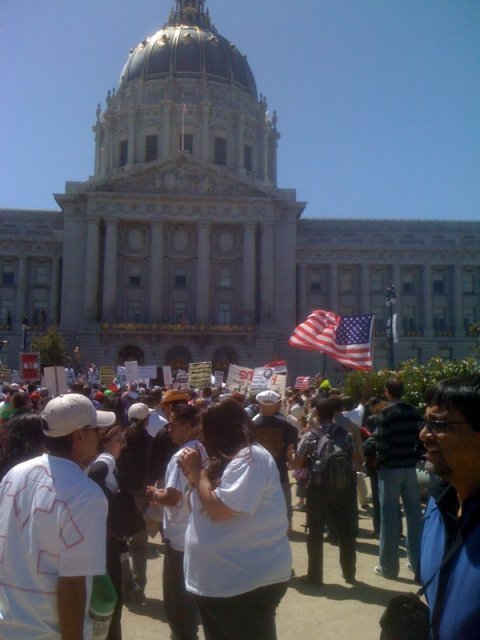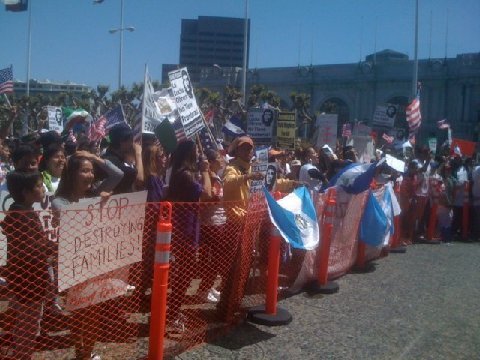 ==========================================================================================================
New York, NY

Massive rally in Union Square demands legalization of all immigrants
New York, May 1 -- Tens of thousands of people rallied, chanted and rocked to Hip Hop performers and other artists and orators for more than three hours in Union Square today before marching two miles to the federal buildings in downtown Manhattan. This year's May Day action focused on combating the recently passed Arizona anti-immigrant law and demanding legalization of all undocumented workers in the U.S. and their families.
With placards, chants and through talks from the podium, participants made it clear that they also opposed the proposals made by Democratic U.S. Senator Charles Schumer for so-called immigration reform because it emphasized militarization of the border and repressive identification cards, and it delayed legalization.
Like New York City itself, the rally was extremely diverse, representing immigrant groups from all over South America and the Caribbean -- many from Mexico -- and from all over the Pacific Islands, Asia, Africa and the Middle East. There were also trade unionists, community organizers and many students and youths shouting their solidarity with the immigrants and raising their own demands for jobs, education and an end to wars.
The May Day rally was the largest in New York since 2006, when immigrants held the equivalent of a one-day national general strike to protest the Sensenbrenner Bill then raised before the U.S. Congress. The enormous outpouring at that time stopped that bill dead in its tracks.
Teresa Gutierrez, a spokesperson for the May 1 Coalition for Immigrant Rights -- the group that initiated the call for May Day in Union Square the last five years -- said, "Arizona is the home base of arch-racist Sheriff Joe Arpaio and others who falsely blame all problems of U.S. society on immigrants. These reactionaries thought they could get away with passing this repressive Arizona law, which is a threat to all immigrants, an insult to every Latino and Latina person, an assault on every person of color and an attack on all workers.
"This law has boomeranged on the racists. It ignited opposition nationally. It has aroused a new movement with a combative spirit that we all saw not only in Union Square today but also in Los Angeles, in Tucson and Phoenix in Arizona, in Texas and Chicago and in 80 cities around the United States."
Gutierrez estimated from the platform at the end rally near the U.S. Courthouse that 25,000 people had taken part in the rally and march. By telephone, an organizer from Tucson reported on that city's mass May Day action and one from Washington, D.C., told of 40 people arrested for civil disobedience. Gutierrez noted that the size, militancy and enthusiastic spirit of the rally and march had overshadowed other more politically timid activities, even though they were well-funded.
Toward the evening , news arrived from Jackson Heights, Queens, that police had harassed and arrested two women who were undocumented street vendors. Commenting on these arrests, Gutierrez said, "This shows that the climate of repression coming not only from Arizona but from the state and federal authorities is still harsh against our immigrant sisters and brothers. The struggle continues."
==========================================================================================================
Milwaukee, WI
65,000 mobilize in Milwaukee against Arizona's discriminatory legislation, call for federal action on immigration reform

May 1, 2010
Media Contact: (414) 643-1620


A seemingly endless flow of 65,000 passionate and peaceful marchers filled National Avenue in Milwaukee, Wisconsin today, chanting "Obama, escucha, estamos en la lucha!" (Obama, listen, we are in the struggle!) and "El pueblo callado será deportado" (A community that's silent will be deported).

The Wisconsin Statewide May Day March for immigration reform and workers' rights is one of over 80 May 1 actions across the country, standing up against Arizona's increasingly hostile policies toward immigrants which also threaten the civil rights of all its residents.

"In the same way the Wisconsin Congressman Sensenbrenner's bill HR 4437 ignited the immigrant rights movement in 2006; so today has passage of Arizona SB 1070 awakened the nation and opened a new chapter in the civil rights struggle of this country," said Christine-Neumann Ortiz, Executive Director of Voces de la Frontera.

Featured speaker Rafael Reyes, an Arizona resident and member of the National Day Labor Organizing Network, gave testimony to the current situation in Arizona after the devastating passage of SB 1070. "There is a presence of fear in Arizona, but also a presence of strength and beauty in the young people and elders who are protesting, holding vigils, fasting, and calling for SB 1070 to be defeated."

The marchers pledged to support the Resolution that will be introduced by Alderman Witkowiak this Monday, calling for participation in the economic boycott of Arizona; and plan for a Milwaukee protest outside the Diamondbacks game at Miller Park in August.

Before the march, a suspicious dumpster fire billowed smoke onto the crowd as they assembled around noon, but the marchers were not deterred by what appeared to be an attempt at intimidation. Coordinators of the march and local law enforcement quickly contained the situation, and the march proceeded, even more determined to share its crucial message of dignity in the face of injustice.

Please Read: May Day 2010 Reports from Across the Country
Past May Day Actions
March 25th 2006 Los Angeles Mobilization
Back to May Day 2010 Home Page
Back to National Immigrant Solidarity Network Home Page